.
Siemens photo gallery:
Offshore wind from Germany for the energy transition

15 kilometers northwest of the East Frisian island of Borkum, one of the first commercial offshore wind power plants in the German North Sea is being built. The Riffgat project will have 30 Siemens SWT-3.6-120 wind turbines, with a capacity of 3.6 megawatts (MW) each, and a rotor diameter of 120 meters.
Special ship needed
Special installation vessels install the wind turbines offshore. The "Bold Tern" (photo) braces itself against the sea floor on four extensible steel pilings, and can thus be used largely independently of currents and wave conditions. The specialized ship can hold the towers, nacelles, and rotor blades for up to eight wind turbines.
A single piece
Siemens is the only wind turbine supplier that manufactures rotor blades from a single casting, using the patented IntegralBlade method – without seams or joints. The installation vessel can transport as many as 24 rotor blades to the installation site.
Industrialization
To make wind power independent from subsidies, Siemens is working to advance industrialization in the wind sector. Following the commercial truck industry's lead, Siemens is introducing industrialized production processes. Since Siemens moved nacelle production to the assembly line, production time has been cut from 36 hours to 15 hours.
Platform concept brings success
Siemens relies on a concept in which all Siemens wind turbines are pooled together under the umbrella of four product platforms. Each turbine has five or six modules that are used in different turbines within a single platform. Turbines from Group G4 (geared) were installed for the Riffgat project.

Aiming high in the wind
The rotors installed at the Riffgat wind power plant are 120 meters in diameter. Each rotor blade is 58 meters long. Although the rotor is installed at a height of 90 meters, at their highest the blade tips extend 150 meters above the water surface and ensure many full-load hours.
The most-installed turbines
The Siemens SWT-3.6 is not just used at the Riffgat wind power plant – it's the world's most frequently installed offshore wind turbine. To date, Siemens has installed some 600 turbines of this type. The order book contains orders for another 1,200 SWT-3.6 units.

Grid connection
A transformer substation in the midst of the Riffgat offshore wind farm gets the generated wind power under way: the electricity is transmitted to shore via an undersea cable, and is then fed into the German power grid near Emden.

Worldwide offshore expert
Siemens is at the front of the market for offshore wind turbines. To date, the company has installed about 1,200 wind turbines, with a total capacity of 3.8 GW, on the high seas. Orders are already on hand for further offshore projects with a total capacity of about 5 GW.

Source: Siemens AG photonews.cc@siemens.com

2013, August 8
Oil & Gas Journal:
Worldwide more than 100,000
paid subscriptions
Learn more
.
Invitation from the
Oil & Gas Journal
and Offshore Magazine: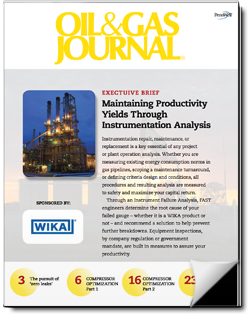 This 'Executive Brief'
could be yours

Click here ... and see what we have designed, produced, published and promoted for WIKA and FMC Technologies ... and what we would like to do for you.
.PennWell Petroleum Group:
OGJ - Oil & Gas Journal
OGJ_eNewsletter
Offshore Magazine
Offshore eNewsletter
Oil & Gas Financial Journal
Oil, Gas & Petrochem
OGJ Russia
OGJ LatinoAmericana
PennEnergy
PennEnergy-eNewsletter
+ + +
For more information, media kits or sample copies please contact
wilhelms@pennwell.com
www.sicking.de