Siemens begins fiscal 2012 with new structure
Fourth Sector Infrastructure & Cities launched on October 1

30.09.2012 + + + Siemens will start off fiscal 2012 on October 1, 2011 with a further developed structure. The newly founded Infrastructure & Cities Sector begins operation on that day, as planned. In the future, the operating businesses of Siemens will be organized in the Industry, Infrastructure & Cities, Energy, and Healthcare Sectors. By forming the new Sector, the company plans to be a leading participant in the dynamic growth of cities and infrastructure investments. . . . more
CHC Helicopter orders 20 additional Eurocopter EC225s,
expanding world's largest fleet of Super Puma family helicopters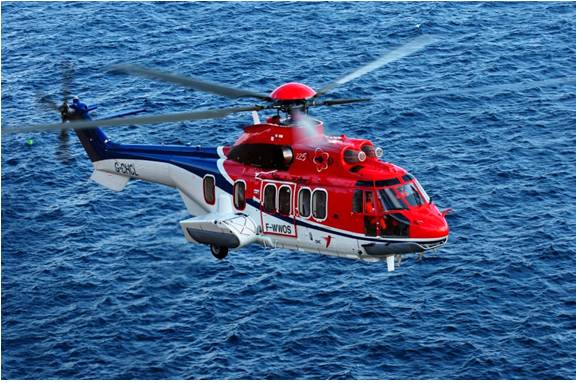 Marignane, France, Sept. 29, 2011 + + + CHC Helicopter has ordered and will incorporate 20 more Eurocopter EC225 Super Puma twin-engine helicopters into its operations over the next several years, CHC and Eurocopter announced today. Deliveries of the newly ordered EC225s – including an option for four additional aircraft beyond the initial 20 – will occur during the next four-plus years, into 2016. According to CHC, the helicopters will be needed to accommodate anticipated growth from both current and future customers.

The aircraft are expected to be deployed to serve oil-and-gas customers in the UK, Norway, Australia and Brazil
...more
.
A new generation of oil titans
Western Hemisphere rivals OPEC as it moves toward self-sufficiency
20.09.2011 + + + Brazil has begun building a fleet of nuclear submarines to protect its vast, new offshore oil discoveries. Colombia's oil production is climbing so fast that it is closing in on Algeria's and could hit Libya's prewar levels in a few years. Exxon Mobil is striking new deals in Argentina, which recently heralded its biggest oil discovery since the 1980s.

For the first time in decades, the emerging prize of global energy may be the Americas, where Western oil companies are refocusing their gaze in a rush to explore clusters of coveted oil fields.

''This is an historic shift that's occurring, recalling the time before World War II when the U.S. and its neighbors in the hemisphere were the world's main source of oil,'' said Daniel Yergin, the American oil historian. ''To some degree, we're going to see a new rebalancing, with the Western Hemisphere moving back to self-sufficiency.'' ... more
.
Lloyd's Register: 'BOP Monitor' offshore application for RiskSpectrum©

13.09.2011 + + + Lloyd's Register is working with leading owners and operators from the oil and gas sector to improve current methods of monitoring the performance of blow-out preventers (BOP) and reduce the risks for one of the industry's most safety-critical pieces of equipment. ModuSpec BV and Scandpower AS, members of the Lloyd's Register Group and global leaders in risk management, have combined resources with industry to develop a 'BOP Monitor' that is expected to significantly improve the current processes that assess risk during operations. The monitor will be a new application for Scandpower's proprietary software, RiskSpectrum©, the value of which has already been proven in 50% of the world's nuclear power plants - more
.
Dr. René Umlauft new CEO of MAN Diesel & Turbo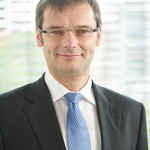 Today, on 1 September 2011, Dr. René Umlauft has taken over as CEO at the Augsburg-based large-bore engine and turbomachinery manufacturer MAN Diesel & Turbo. The 46-year old has moved from the Renewable Energy division of Siemens AG to Augsburg and will also be joining the Executive Board of MAN SE as a Deputy Member. This step means that the Power Engineering Business Area is now once again represented on the Executive Board of MAN's Corporate Center - more
.
PlaceWorkers MoFiServ
Mobile Software Solutions for the Oil & Gas Industry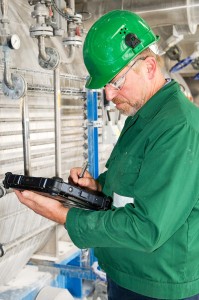 PlaceWorkers founded 2001 with the vision to develop mobile software for companies, which supports the users in their day-to-day tasks. Today the company is a leading global provider of technology systems, software solutions and consulting services based on SAP and Sybase technology. The company has developed a mobile workforce solution called MoFiServ for the oil and gas industry, covering all necessary tasks like device selection, device management, work processes and all digital processes in general. MoFiServ supports upstream and downstream operations, running on ATEX safe and ruggedized mobile hardware like EX1 certified Intermec PDA devices. It enables the worker to manage workflows, organize production and field operations, create notifications, gather data, do work clearance management and covers inventory and logistics management. Operators and field engineers use the tools in their daily work and have a performance increase of more than 25% - more

.
MTU Onsite Energy to supply generator sets
for emergency power in recovering Japan

19.08.2011 + + + Tognum Group subsidiary MTU Onsite Energy Corp. provided 43 generator sets to Japan as part of a 203 MW emergency power contract between Tokyo Electric Power Company (TEPCO) and APR Energy (APR). APR Energy, headquartered in Jacksonville, FL specializes in the rapid global deployment of custom turnkey power solutions that utilize both diesel and gas turbine technologies. The generator sets powered by MTU 16V 4000 diesel engines were assembled at the MTU Onsite Energy facility in Mankato, MN and then containerized before beginning their journey to Japan - more
.
Siemens: Terrance Ivers appointed CEO of the Compression and Solutions Energy Business Unit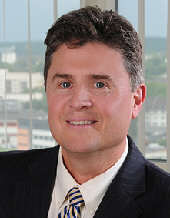 19.08.2011 + + + Terrance N. Ivers, 53, new CEO of the Compression and Solutions Business Unit of the Oil & Gas Division effective August 1, 2011, has succeeded Donald Weir, who has decided to leave Siemens. Since 2007 Ivers was the president of Amec Paragon, an international project management company and service provider to the upstream and midstream (especially pipeline) industries - more
.
Reorganisation at Ferrostaal
New Division structure and reduced size of the Executive Board

.

18.08.2011 + + + As part of the strategic reorientation of Ferrostaal AG, the company is streamlining its organisation. The Executive Board will be reduced from five to four members + + + Three divisions will focus on the plant and projects business (EPC – Engineering, Procurement and Construction), the machine trade business and the associated service business are covered by one division, and the business with assembly services for large car manufacturers and suppliers is being dealt with in another + + + A new head has been appointed for each of the three divisions in the project and plant business, directly reporting to the Chief Executive Officer Jan Secher. The "Petrochemicals" Division is managed by Dr. Kaspar Evertz (52). The "Power & Solar" Division is led by Klaus Zink (55). The "Industrial Plants" Division is headed by Dr. Stefan Bürkle (42) - more.

.
Floating production, storage orders set record pace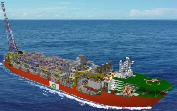 .

03.08.2011 + + + A record pace in the number of floating production and storage orders was noted in a recent study by International Maritime Associates Inc., Washington DC. The study found that the industry has placed a record 14 orders for floating units since March. Currently 256 floating systems are in service or available worldwide, according to the study. Of these, 62% are floating production, storage, offloading (FPSO) vessels; 17% are production semisubmersibles; 9% are tension leg platforms; 7% are production spars; and the remaining 5% are production barges and floating storage and regasification units (FSRUs). Eleven of the 256 units are not on a field and are available for reuse. Source: Oil & Gas Journal - more
.
HANSA HEAVY LIFT plans to move to Hamburg
.


05.08.2011 + + + In the course of its ongoing corporate development, HANSA HEAVY LIFT, one of the largest maritime shipping companies for heavy-lift and project transports, conducted a thorough assessment of possible business locations. Consistent with this evaluation, HANSA HEAVY LIFT will weight its anchor and steer towards Hamburg at the beginning of 2012. The many good reasons substantiating this decision to move outweigh those arguments for remaining in Bremen > more

.
Bayer among favorites for German Sustainability Award


05.08.2011 + + + A novel process for the production of plastics using carbon dioxide has made Bayer AG a favorite for this year's German Sustainability Award. The company is among the top three candidates in the category "Germany's Most Sustainable Initiatives." Bayer was nominated for the Dream Production research project, which aims to turn the greenhouse gas CO2 into a useful raw material. This could ultimately provide the chemical industry with an alternative to increasingly scarce resources such as petroleum - more
:
Optimized ThyssenKrupp VDM material
offers exceptional corrosion performance to resist highly aggressive acids

27.07.2011 + + + The research laboratories of ThyssenKrupp VDM have succeeded in further developing the tried and tested material Alloy 31 and improving its properties once again. The new Nicrofer 3426 hMo occupies a position between high-alloy nickel materials and stainless steels and is a superaustenitic. A superaustenitic is an austenitic thus nickel-containing material with additional high alloying elements chromium and molybdenum giving it improved corrosion resistance. The development of the material was supported by modern computer simulation programs to optimize the composition of the entire alloy system - more
.
Siemens to equip special vessel
for transporting and erecting of offshore wind power plants
20.07.2011 + + + J. J. Sietas KG of Hamburg is the first German shipyard to build an installation vessel for the erection of offshore wind farms. Siemens Marine Solutions will supply the appropriate diesel-electric propulsion and automation system as well as the medium voltage system for power generation and distribution. The order has a value of several million euros. The special vessel is due to be handed over to Van Oord, a Dutch water engineering company, in September 2012 > more
.
KOGT - Kongsberg Oil & Gas Technologies:
Commercial release of first phase of LedaFlow®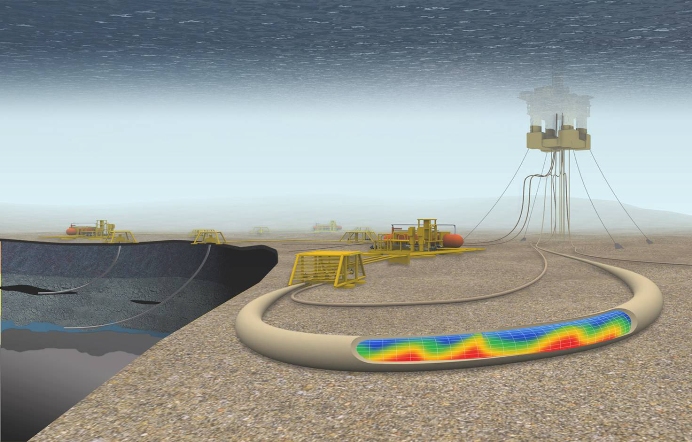 15.06.2011 + + + Kongsberg Oil & Gas Technologies (KOGT) announces the commercial release of the first phase of LedaFlow®, its next generation multiphase flow assurance simulator. A product of nearly a decade of collaboration between Total, ConocoPhillips and SINTEF, KOGT has further developed and commercialised LedaFlow as a unique tool to improve production for oil & gas engineers > more
.
Siemens to invest EUR150 million to expand wind power business
Two new R&D centers will strengthen technology leadership

15.06.2011 + + + Over the next two years Siemens is to invest over EUR150 million in further expansion of its wind business. Two new Research and Development (R&D) Centers are to be set up in the Danish towns of Brande and Aalborg. In addition, Siemens will match the capacity of its Danish production plants to the growing demand for offshore wind turbines in Europe expand office spaces at its headquarters in Brande to accommodate the growth in number of employees. Starting 2012, the highly successful Offshore Business will have a new Center of Competence in the Danish city of Vejle > more

.
Shell: A revolution in natural gas production - Groundbreaking Floating LNG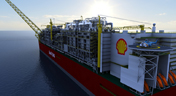 20.05.2011 + + + The Board of Royal Dutch Shell plc has taken the final investment decision on the Prelude Floating Liquefied Natural Gas (FLNG) Project in Australia, building the world's first FLNG facility. Moored far out to sea, some 200 kilometres from the nearest land in Australia, the FLNG facility will produce gas from offshore fields, and liquefy it onboard by cooling. The decision means that Shell is now ready to start detailed design and construction of what will be the world's largest floating offshore facility, in a ship yard in South Korea > more

.
.
ContiTech Expands Business with Special Hoses for Liquefied Natural Gas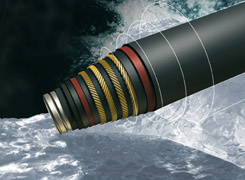 25.04.2011 + + + ContiTech AG is stepping up its involvement in the market for hoses for raw material extraction and for maritime applications. The ContiTech subsidiary Dunlop Oil & Marine Ltd., Grimsby, UK, concluded an agreement with the Dutch Bluewater Energy Services BV, Amsterdam, in order to develop and produce special cryogenic hoses for loading tanks with Liquefied Natural Gas (LNG). Bluewater holds key licenses from BHP Billiton for this technology and will be responsible for the development of technology transfer solutions > more

.
Siemens exhibits show the smart grid of tomorrow in the exhibition on rails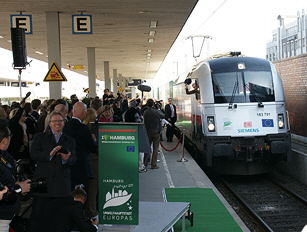 21.04.2011 + + + With the support of Siemens, Hamburg, as the European Green Capital 2011, today launched the rolling, interactive exhibition "Visions for future cities." In the coming months, the "Train of Ideas" will be showing over 100 environmental projects in its six exhibit cars and providing information on central topics such as energy and mobility. Through its participation, Siemens wants to give fresh impetus to environmental protection and create a communication channel for sustainable technologies that will reach all parts of Europe > more
.
Beluga: The Managers of the seemingly Impossible
12.01.2010 + + + A group of experienced specialists realizes transports of huge cargoes across the seven seas – anything from super yachts to oversized buoys. A close look into the transport engineering department of a world market leader + + + Recently Sanusi, one of the very few shipping specialist with PhD, made the transport of the world´s largest buoy over a distance of 12.000 miles possible. The colossus, a STP-buoy (STP stands for Submerged Turret Production) is used in the oil industry. It is a hub for several oil pipelines bringing raw oil from the depths of the ocean to a production tanker which in turn pumps the raw material into oil tankers > more
.
MAN Diesel & Turbo
presents new gas turbine generation for industrial applications

20.12.2010 + + + MAN Diesel & Turbo, a manufacturer of large diesel engines, compressors and turbines, adds the 6 to 8 MW output class to its portfolio of industrial gas turbines + + + "Besides high reliability in continuous operation, the main focus of this development was to minimise exhaust gas emissions in order to comply with the most stringent environmental requirements in the world," explains Dr. Markus Beukenberg, Head of Gas Turbine Development at MAN Diesel & Turbo > more
.
Siemens is to acquire the Russian commercial finance company DeltaLeasing

16.12.2010 + + + Siemens is to acquire the Russian commercial finance company DeltaLeasing from The U.S. Russia Investment Fund, managed by Delta Private Equity Partners. The deal represents a significant step in the international growth strategy of Siemens' Financial Services (SFS) unit, positioning SFS as a substantial player in the Russian asset financing market. The transaction is subject to Russian regulatory approval and expected to close in the first quarter of the calendar year 2011. "By adding DeltaLeasing, we are further expanding our network as an international service provider and are systematically complementing our equipment finance business in one of the key emerging markets," said Roland Chalons-Browne, CEO of SFS > more
.
Highest tonnage and biggest growth at Frankfurt
earns AirBridgeCargo Top Fraport Awards for 2010

10.12.2010 + + + Fraport Cargo Services (FCS) has presented AirBridgeCargo Airlines (ABC) with its 'Best Cargo Performer 2010' award after the airline increased its freight volume through Frankfurt Airport by nearly 50%. It is the second year in a row that ABC has been recognized as the leading carrier handled by Fraport in terms of volume. In the first 11 months of 2010, AirBridgeCargo, the scheduled cargo airline of Volga-Dnepr Group, saw its freight tonnage at Frankfurt increase to nearly 103,000 tons compared to just below 70,000 tonnes for the same period of 2009 > more.
.
Gazprom Neft and BASF Hold Joint Workshop on Further Cooperation
in Oil Processing and Construction

09.12.2010 + + + Gazprom Neft and the BASF Group of chemical companies have held a joint workshop focused on further cooperation development between the companies. During the workshop, a wide range of issues for implementation of BASF's innovative solutions at Gazprom Neft's refining facilities was considered. In particular, the production of high-quality engine fuels, the use of additives, and the development of Gazprom Neft's fuel brand were discussed during the workshop > more.
.
Aker Solutions splitted into three separate companies
09.12. 2010 + + + International oil services, engineering and construction company Aker Solutions has decided to cultivate its core businesses by creating three separate companies. The new streamlined entities have a clear ambition to grow in their respective markets > more
.
Siemens will expand financing opportunities for its customers with its own bank

09.12.2010 + + + Siemens has received authorization from Germany's Federal Financial Supervisory Authority (BaFin) to engage in banking operations. The Siemens Bank GmbH will support sales at the company's three operating Sectors – Industry, Energy and Healthcare – by expanding, with loans and guarantees, the product portfolio of Siemens' financial services unit in the area of sales financing, in particular. Through deposit banking activities, the bank will also increase the flexibility of Siemens' internal financing operations and optimize risk management > more
.
Strong Demand for Offshore Service Vessels Signals Growing Market
GL also introduces a regional Technology Center for the U.S. Gulf Coast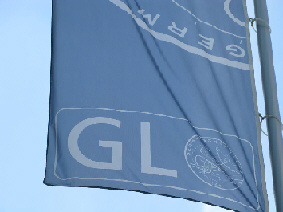 09.12.2010 + + + Offshore service vessels (OSV) are becoming larger, more specialized and technically sophisticated as a result of the rising demand for more complex deepwater field developments, including the Gulf of Mexico. Currently, there are some 2,500 OSV worldwide, with a steady growth projected from now through 2020. All this has led to an expanded definition of OSV which refers to not only traditional supply boats, but also anchor handling tug/supply ships, well stimulation ships, and standby ships and even those "built to carry hazardous and noxious substances, to fight fires, or to occasionally recover oil > more
.
Wintershall plans heavy investments
in Norwegian exploration and development activities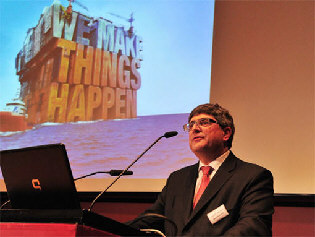 01.12.2010 + + + Wintershall is making good progress on the path to becoming one of the most important operators in Norway: at the German-Norwegian energy conference "Energy Security" in Berlin, Martin Bachmann, Member of the Board of Executive Directors of Wintershall and responsible for Exploration and Production, said he was pleased with the company's activities in northern Europe. "The expansion of our activities in Norway is making very good progress. Wintershall is involved in six of the twelve largest oil discoveries in Norway over the last five years" > more
..
BASF and Gazprom celebrate 20-year partnership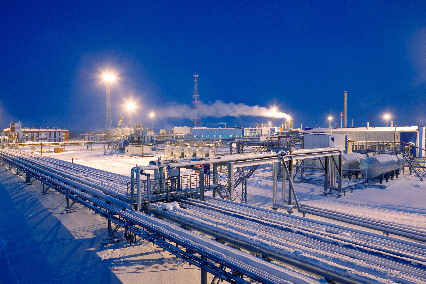 22.11.2010 + + + BASF and its oil and gas subsidiary Wintershall commemorated 20 years of German-Russian economic history together with Gazprom at an anniversary event in Berlin. The companies laid the foundations for their cooperation in fall 1990 with a long-term agreement to market Russian natural gas in Germany. Together with m ore than 200 guests, Dr. Jürgen Hambrecht, Chairman of the Board of Executive Directors of BASF SE, and Alexey Miller, Chairman of the Management Committee of OAO Gazprom, celebrated the anniversary of the successful and pioneering economic cooperation > more
..
Siemens: New 37-MW industrial gas turbine
provides efficient and reliable power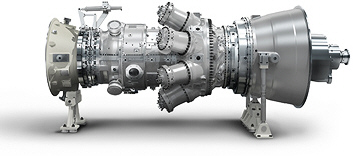 18.11.2010 + + + Siemens Energy launched a new industrial gas turbine in Finspång, Sweden. With a capacity of 37 megawatts (MW), the SGT-750 will close a gap in the Siemens industrial gas turbine portfolio, which offers a power range between 5 and 50 MW. This versatile machine can be employed both for power generation and as a mechanical drive. The new development provides economic viability and ecofriendliness as well as a high level of availability and reliability > more
.
MAN: World Record Achieved with 18 MW High-Speed Motor
Next generation of motor-compressor units

17.11.2010 + + + By achieving ATEX certification for a newly developed 18 MW high-speed electric motor, MAN Diesel & Turbo reached a crucial step in further enhancing its compressor technology for the worldwide Oil & Gas industry, extending the company's lead in the field of hermetically-sealed motor-compressor units > more
.
Liebherr: Further 1.600 t heavy lift offshore crane successfully delivered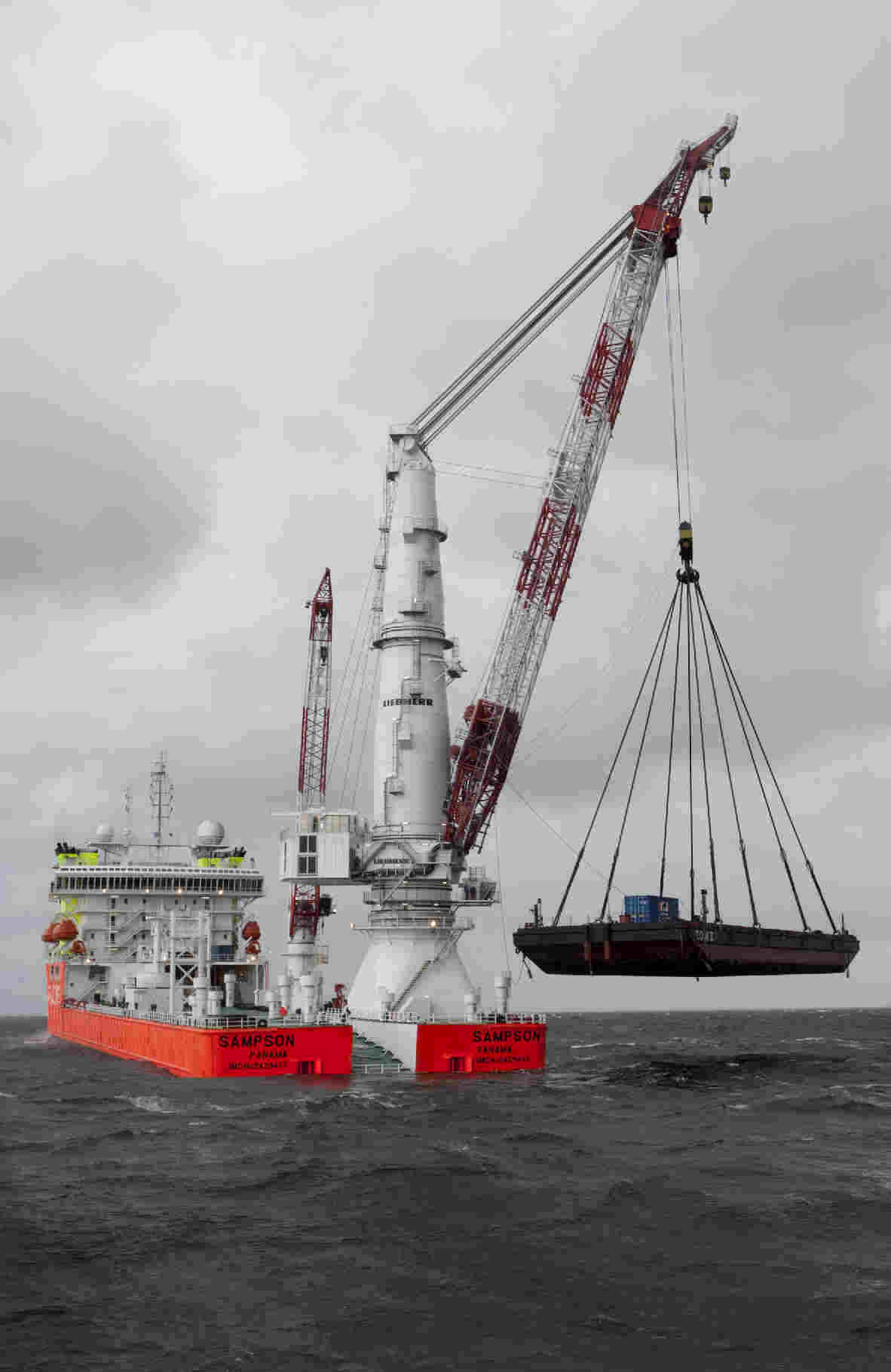 15.11.2010 + + + At the beginning of September, Liebherr delivered the second heavy lift offshore crane type MTC 78000 straight from its manufacturing plant in Rostock. The MTC 78000 is one of the biggest offshore slewing cranes worldwide. The onsite erection and assembly of the large size crane on the heavy load vessel OSA Sampson presented Liebherr engineers with special challenges – for example, the planning of the individual hoists so that the maximum permitted ground pressure of the pier was not exceeded. After the successful test, the client could be delivered with the heavy load vessel OSA Sampson. The OSA Sampson is one of the largest heavy load vessels worldwide and is being used for platform reconditioning, pipe laying and to set up offshore wind power plants > more.
.
"Cleaner & Better Energy": E.ON defines new strategic focus

10.11.2010 + + + E.ON will focus in the future on competitive businesses in Europe and enhance its efforts to leverage synergies across its businesses and business areas in Europe's converging energy markets. E.ON is systematically implementing its new-build projects in Russia and will further expand its renewables capacity in North America. In addition, E.ON intends to leverage its expertise in power generation and renewables in two other regions outside Europe and to expand its trading business on a global scale. By achieving a broader international footprint, E.ON plans for its businesses outside Europe to deliver one quarter of its total earnings by 2015 > more
.
Advertisement


providing vital data for strategic decisions in the European Energy Industry
Free access for energy professionals
OMV increases share in Petrol Ofisi from 41.58% to 95.75%
.


22.10.2010 + + + > Acquisition of 54.17% share in Petrol Ofisi from Doğan Holding: Purchase price of EUR 1 bn > OMV gains sole control over one of the leading companies in the Turkish oil products retail and commercial business > Strong basis for further integrated growth within Turkey: Numerous advantages for all OMV business segments > Presence in Turkey as strategic bridgehead to resource-rich Caspian Region and Middle East > more

.
BIS Group stepping up expansion in Nordic countries
.


20.10.2010 + + + With the acquisition of Finnish company Oy Orpipe AB, Porvoo, the Bilfinger Berger Industrial Services Group (BIS Group) has completed its entry into this Northern European market + + + Earlier this year Bilfinger Berger Industrial Services has concluded new framework agreements worth a total of €250 million with the Norwegian energy group Statoil. The agreements cover service packages comprising insulation, corrosion protection and scaffolding work to be carried out for the maintenance of offshore production platforms and processing ships in the North Sea and of onshore plants in Norway and Denmark. > more
..
"Beluga Stavanger"
loaded a huge barge destined for port-construction in Odessa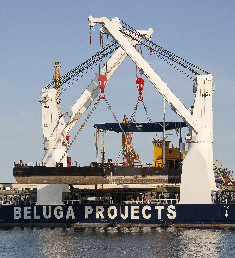 08.10.2010 + + + With almost 1,000 tons of weight the construction unit is anything but a light duty. Even for the extremely powerful two cranes of the multipurpose heavy lift project carrier MV "Beluga Stavanger", which helped Kurt into the air, this was not at all a snap. It was one of the most interesting capability-tests to date for the on board loading gear of the new P-class ships of the Bremen based shipping company Beluga Shipping. Although both onboard cranes - each of them made for lifting 700 tons – as a tandem can lift without any problems even 1,400 tons, this lift was extreme > more
.
Haldor Topsøe and Linde supply technology for POSCO's Synthetic Natural Gas (SNG) plant in South Korea
05.10.2010 + + + The Linde Group and Haldor Topsøe, a market leading provider of integrated catalyst solutions, today announced they have been selected as technology suppliers for the syngas treatment and methanation unit of POSCO's synthetic natural gas (SNG) plant. The new plant will be erected in Gwangyang, South Korea, producing SNG from coal and/or petcoke. The POSCO SNG plant, with a nominal capacity of 500,000 metric tons per year (MTPY) of pipeline-ready SNG, will be brought into operation by end of 2013. It will be the first SNG plant in South Korea > more
.
Acquisition of Technor Safe Ex AS –
BARTEC Confidently Pursues its Growth Strategy
04.10.2010 + + + BARTEC, one of the world's leading solution providers of industrial safety technology, is confidently pursuing its vigorous growth path. The high-tech company, which has its head office in Bad Mergentheim/Germany, has acquired the Norwegian company Technor Safe Ex AS. Based in Stavanger/Norway, one of the key markets for European oil and gas production, Technor heads its domestic market in the sale of explosion-proof equipment and systems. Typical applications for the company's customized solutions are oil platforms and offshore facilities > more
.
Allweiler Anniversary Editions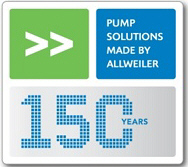 01.09.2010 + + + Allweiler AG, a Colfax business unit, has been manufacturing pumps in Germany for 150 years, making it the country's oldest pump manufacturer. In celebration of this milestone, Allweiler is offering its customers four exclusive anniversary editions: a leakage monitoring system for screw pumps, dry-running protection for progressing cavity pumps, complete replacement pumps with motors, and free on-site pump inspections. Allweiler is discounting all anniversary editions between 15 and 50 percent. > more
.
RWE and Kurdistan Regional Government of Iraq sign cooperation agreements
Gas supply for Nabucco pipeline
27.08.2010 + + + RWE today announced that it has signed Cooperation Agreements with the Kurdistan Regional Government in Iraq with the aim of helping it to develop and design its domestic and export gas transportation infrastructure – creating a route to market for Kurdistan's major gas reserves. The cooperation also foresees the negotiation of gas supply agreements to enable gas from the region to be transported to Turkey and Europe via the Nabucco pipeline. Export revenues would be shared and available to the whole of Iraq and provide much needed support in the reconstruction of the region and the country > more
.
Aker: Newbuild vessel fleet designed for all-round, subsea construction tasks

24.08.2010 + + + Aker Solutions' pioneering decision to assemble a fleet of deepwater subsea construction and well intervention vessels is paying off. Work has already been secured for three of the four new vessels, two of which have so far been delivered. First into action was Skandi Santos, a deepwater subsea construction vessel, which early this year went directly into a long-term contract with Petrobras. It is currently installing subsea trees on fields in the Campos basin > more
.
Siemens launches FracTreat Mobile Treatment Solutions for
Oil & Gas Production Market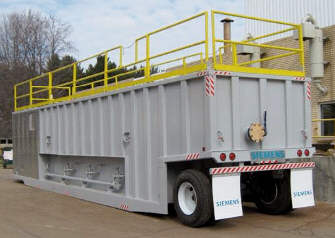 25.08.2010 + + + Siemens Water Technologies has launched a new suite of products that provide comprehensive mobile water treatment solutions for the oil & gas industry, specifically for oil & gas production in shale gas applications. The FracTreat line of products includes mobile continuous precipitation, mobile flotation and a mobile combination pilot unit – all of which help improve effluent water quality and reduce the demand on fresh water sources by recycling treated effluent > more
Advertisement


providing vital data for strategic decisions in the European Energy Industry
Free access for energy professionals
..
E.ON Ruhrgas: First gas flows from Babbage field in United Kingdom
Milestone for own gas production of E.ON Ruhrgas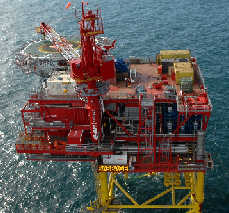 10.08.2010 + + + E.ON Ruhrgas started first production from the Babbage gas field in the United Kingdom. The Babbage platform is the first gas production platform operated by E.ON Ruhrgas UK E&P Limited. The field is located approximately 80 km off the coast of the UK, in the Southern North Sea. Babbage is expected to produce more than 5 billion cubic metres of natural gas with a field life of 20 years > more

.
Heurtey Petrochem picks Jacobs Engineering for Serbian refinery work


10.08.2010 + + + Jacobs Engineering Group Inc. received a contract from Heurtey Petrochem SA, France, to provide engineering services for a new hydrogen plant generation unit at the Naftna Industrija Srbije (NIS) refinery. The NIS refinery is located in Pancevo, Serbia and is under a license from Haldor Topsoe > more
..
Breagh A and Clipper South: RWE Dea awards Engineering Procurement and Construction contracts to Heerema Fabrication Group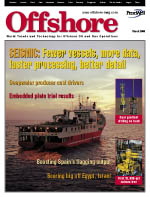 04.08.2010 + + + RWE Dea UK announced today that the contract for the engineering, procurement and construction ("EPC") of a minimum facilities platform for the Breagh A Development has been awarded to Heerema Vlissingen B.V. ("Heerema"). This is the second contract this year to be awarded by RWE Dea UK to Heerema, following an award of an EPC contract in April for a minimum facilities platform for the Clipper South development > more
.
Thyssengas 2010 market test: Striking demand for transmission capacity Planning procedure being prepared for 1.3 billion euro new natural gas pipeline

03.08.2010 + + + The response among market players to Thyssengas' non-binding enquiries concerning demand for gas transmission capacity in the planned pipeline from Emden via Werne to Eynatten and Bocholtz has been huge. In its 2010 market test Thyssengas polled transmission demand for the planned natural gas pipeline - some 520 kilometres long – which is set to have an annual capacity of eight billion cubic metres. Numerous market players have registered their interest in transmission capacity along the planned pipeline > more
..
INEOS Oxide plans to build and to operate a new one million tonne,
deep-sea Ethylene Terminal
.


01.08.2010 + + + INEOS Oxide confirmed its plans to build and operate a new one million tonne per annum Ethylene Terminal, to be constructed at its Zwijndrecht facilities in Belgium. Operation of the new deep-sea terminal, which is expected to start in 2012, will significantly change the shape of the ethylene market in Europe > more
.
Petrofac Awarded Pipeline Project with Kuwait Oil Company
29.07.2010 + + + Petrofac, the international oil & gas facilities service provider, announces that it has been awarded a Pipeline Project with Kuwait Oil Company. The project, with an anticipated duration of 23.5 months, is for engineering, procurement and construction services for the installation of fuel gas and gas oil pipelines. The development will include a fuel oil pumping station, metering systems, utilities systems and associated electrical, instrumentation and telecommunication works, for the pipelines from Mina Al Ahmadi to the Azzour and Shuaiba Power Stations in Kuwait
.
Nord Stream reaches Russian landfall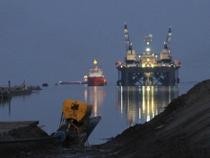 29.07.2010 + + + Installation of the Nord Stream gas pipelines in the Baltic Sea is making good progress, with the first of the two lines reaching the landfall point on the Russian shore. Saipem's pipelay vessel Castoro Sei, moored 1 km (0.6 mi) from the coast, pulled the pipeline string ashore, and will tackle the second string next week. Construction continues of the 1.5-km (0.9-mi) onshore stretch of the pipeline, along with work on the landfall facilities > more
.
Midwest worldwide Pipeline Directory contains more listings than ever before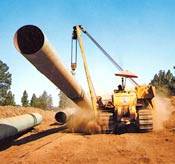 28.07.2010 + + + This unique directory contains operating company details - miles and diameters of natural gas, crude and product transmission and gathering pipeline systems; pipeline capacities and throughputs; narrative descriptions including pipeline systems owned and/or operated by the company. Not only does it contain the Pipeline Operators Worldwide, but the PC Directory also contains all support sectors in the industry, from the largest worldwide engineer/contractors to local service and supply companies in every area. ($175 for 1 year and 1 PC)
The Pipeline Directory has over 9,400 Companies with 25,900 locations, and 85,700 key personnel many of whom have direct e-mail addresses, direct phone numbers and more. Midwest Publishing is clearly providing THE resource for the Pipeline Industry > More details > Limited listings Trial Demo
.
Beluga Shipping announced further investmens in the super heavy lift market -
Additional growth in the offshore wind farm sector and offshore business segment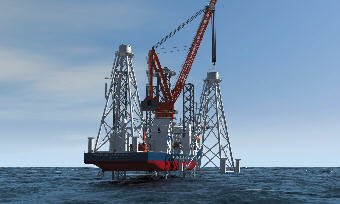 23.07.2010 + + + Beluga Shipping GmbH, the global market leader in the project & heavy lift shipping segment, today announced plans to make further investments in the super heavy lift market, extend its existing business segments, and improve its overall service offering. Initially, additional growth is expected in the offshore wind farm sector ... more
.
Subsea Market Forecast to 2014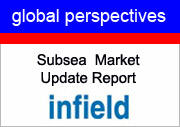 22.07.2010 + + + The sixth edition of Global Perspectives Subsea Market Update Report provides; analysis on the effects of the global recession, presents information on key markets, operators and original equipment manufactures. This new report assesses potential capacity constraints, provides insight on each OEMs' historical market share and analyses new technological developments such as subsea boosting and processing ... more
.
E.ON leads in Offshore wind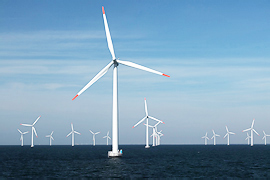 22.07.2010 + + + E.ON is leading the European offshore business. According to new statistics released by the European Wind Energy Association (EWEA) 118 new offshore wind turbines with a capacity of 333 megawatts, were connected to the grid in the first half of 2010 ... more
.
Wintershall reports second significant operated discovery in Norway
Maria discovery one of the largest findings in 2010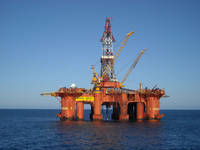 22.07.2010 + + + Wintershall Holding GmbH announces a discovery at the Maria prospect in production licence 475BS in the Norwegian Sea about 200 kilometers off the coast of Trondheim. The well proved light oil and was drilled on the Halten terrace, near the Tyrihans and Åsgard fields. The size of the discovery is estimated between 60 and 120 million barrels of recoverable resources, placing it among the largest oil discoveries in Norway in this year ... more
..
Siemens selected as
main electrical contractor for natural gas liquids fractionation plant

22.07.2010 + + + Siemens Energy has been awarded a USD40 million project in the United Arab Emirates (UAE) to engineer and supply an integrated power solution for a natural gas liquids (NGL) fractionation plant. The customer is a joint venture between Petrofac and GS E&C on behalf of Abu Dhabi ... more
.
Offshore wind heads for record year

20.07.2010 + + + 118 new offshore wind turbines were fully connected to the grid in the first half of 2010 according to new statistics released today by the European Wind Energy Association (EWEA). Those 118 turbines have a capacity of 333 MW – well over half the 577 MW installed offshore last year – showing continuing strong growth in offshore wind power despite the financial crisis. In addition, 151 turbines (440 MW) were installed but not yet connected to the grid, EWEA revealed today ... more
.
Proserv Offshore Awarded Windfarm Solution Contract with DONG Energy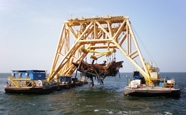 15.07.2010 + + + Proserv Offshore, a leading global provider of subsea maintenance, abandonment and decommissioning and services to the offshore energy industry, has recently been awarded a substantial contract with DONG Energy to supply and operate their innovative wind generator pile cleaning solution at DONG's Walney 1 Windfarm, located in the Irish Sea ... more
.
ABB: HVDC Light transmission link
will connect three North Sea wind farms to German power grid

15.07.2010 + + + ABB, the leading power and automation technology group, has won an order worth around $700 million, from the German transmission grid operator, transpower, to supply an 800-megawatt (MW) power link that will connect more offshore wind farms in the DolWin1cluster, located in the North Sea to the mainland German grid. ABB will deploy its innovative and environmentally friendly HVDC Light (high-voltage direct current) transmission technology to transmit power from the 400 MW Borkum West II wind farm and other wind farms to be developed nearby ... more
.
RWE Dea to invest 3.6 billion US-Dollars in gas project in Egypt

15.07.2010 + + + RWE Dea will be investing 3.6 billion US-Dollars in the field development in the North Alexandria and West Mediterranean Deep Water concessions – the biggest single investment for the upstream company to date. Together with the Egyptian Petroleum Minister Sameh Fahmy, the Egyptian state-owned company EGPC and the operator BP .... more
.
Chemieanlagenbau Chemnitz GmbH: New projects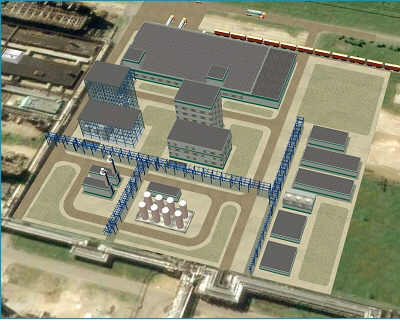 15.07.2010 + + + Chemieanlagenbau Chemnitz GmbH (CAC) has concluded a new contract for the construction of the 2nd stage of extension of a plant for the production of expandable polystyrene in Perm. (See illustration) The first engineering works were already started. This order with a value of approx. Euro 25 Million is just one of several others that fill CAC's order books for the upcoming years. Projects in natural gas storage technology and chlorine-alkali electrolysis account for a major proportion of the good order development ... more
..
.More News + + + News Archive
.Siemens wins another order from transpower for connecting up offshore wind turbines
.LUKOIL wins tender for E&D of two offshore blocks in Romania
.GL Noble Denton: Asset Optimisation - Applying RAM Modelling techniques ...
.Siemens to supply main refrigerant compressor solution for LNG plant in China
.Siemens to become equity partner in offshore wind park installation specialist A2SEA
.Siemens wins order to connect Lincs offshore wind farm to the UK grid
.Siemens secures order for Denmark's largest offshore wind farm
.Infield: Floating Production Systems - Market Update Report to 2014 (PDF 690 MB)
.Gjøa platform heads to North Sea (© Offshore Weekly Report)
.Azerbaijan plans refinery, gas processing plant in Baku (© Oil & Gas Journal)
.OMV: Vienna Stock Exchange invests in the Central European Gas Hub (CEGH)
.ENI, Gazprom sign MOU for entry of EDF into South Stream AG
.RWE Innogy awards contract for offshore foundations to Aker Verdal
.LUKOIL conducts oil spill response exercise in the Caspian Sea
.Siemens concentrates its European production of process instruments in Haguenau, France
.Metso: New Neles ValvGuard VG9000 increases safety cost-efficiently
.Gazprom and Siemens sign MoU to cooperate on LNG technology
.BMI offers Country Reports for 15 Asian Oil & Gas Markets - incl. Forecasts to 2019 (PDF 1,2 MB)
.Shell selects Siemens as its single main power distribution contractor
.RWE Innogy, Stadtwerke München and Siemens build offshore wind farm Gwynt y Môr
.PETROM: Start-up of Hurezani gas delivery system
.Voith Hydro and RWE Innogy install marine tidal current turbine off the Scottish coast
.TMK Strengthens Global Footprint with TMK Africa Tubulars
.RWE Innogy to develop 4,000 megawatt of offshore wind power in the UK
.HOCHTIEF AG: New jack-up platform THOR
.Baltic 2. EnBW and Siemens sign contract for the supply of 80 wind turbines
.A2SEA wins contract at Ormonde Offshore Wind Farm
.Siemens receives order for largest turbine-generator set produced to date in Görlitz
.20 years of FLEXIM - A good reason for celebration
.PetroChina selects Siemens wet air oxidation technology for ww treatment at new ethylene facility
.RWE Innogy chooses Bremerhaven as offshore base port
.Black Sea LNG accord could 'torpedo' Nabucco gas line - (©) Oil & Gas Journal
.Siemens: New ultrasonic flowmeter for the hydrocarbon industry
>
More News / News Archive
>
New Products & Services
.> Offshore Newsletter Archive
.