EWE AG: Offshore wind farm "Riffgat" completed
First commercial park in the German North Sea
30 wind turbines off the coast of Borkum, electricity for 120,000 households

EWE with another first in the field of offshore power: fresh from playing a pivotal role in the construction of 'alpha ventus', Germany's first offshore test field, the energy supplier, based in Oldenburg, Lower Saxony, recently completed the construction of 'Riffgat', the first commercial offshore wind farm in the North Sea, situated off the coast of Borkum. It took EWE just 14 months to construct the 30 wind turbines, which provide a total output of 108 megawatts. "This would have been impossible without the efforts of a dedicated team of outstanding employees, and today is a day that means a lot to all of us", said Irina Lucke, the technical project manager responsible for the construction of the wind farm.

An event will be held on Saturday, 10 August in Norddeich to celebrate the end of the project, which was completed on schedule. Together with the Minister for Economic Affairs, Olaf Lies, Lower Saxony's Minister President, Stephan Weil, will symbolically accept the 108 megawatts as a contribution to the German energy turnaround in the presence of a number of guests from the region. Even though the wind farm is ready for operation, it will take a few more weeks until it starts feeding wind power into the grid, as network operator TenneT is currently finishing off the final section of the 50-kilometre submarine cable that will connect Riffgat to the network.

Environmentally friendly energy for 120,000 households
With a total output of 108 megawatts, Riffgat will generate enough electricity to provide around 120,000 households with environmentally friendly energy. Every turbine in the wind farm is an SWT-3.6-120 manufactured by Siemens. Each turbine has an output of 3.6 megawatts and a rotor diameter of 120 metres. The hub height of the turbines is 90 metres, equal to the height of Bremen Cathedral. The total height from the surface of the water to the uppermost tip of the rotor blade is 150 metres. The turbines were installed by Offshore-Windpark RIFFGAT GmbH & Co. KG, a joint venture of EWE VERTRIEB GmbH (90 per cent) and ENOVA Energiesysteme GmbH & Co. KG (10 per cent).


Source: EWE AG
www.ewe.com
July 17, 2013
Oil & Gas Journal:
Worldwide more than 100,000
paid subscriptions
Learn more
.
Invitation from the
Oil & Gas Journal
and Offshore Magazine: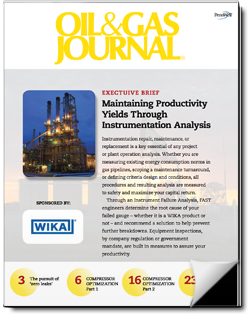 This 'Executive Brief'
could be yours

Click here ... and see what we have designed, produced, published and promoted for WIKA and FMC Technologies ... and what we would like to do for you.
.PennWell Petroleum Group:
OGJ - Oil & Gas Journal
OGJ_eNewsletter
Offshore Magazine
Offshore eNewsletter
Oil & Gas Financial Journal
Oil, Gas & Petrochem
OGJ Russia
OGJ LatinoAmericana
PennEnergy
PennEnergy-eNewsletter
+ + +
For more information, media kits or sample copies please contact
wilhelms@pennwell.com
www.sicking.de