E.ON starts work on Helgoland base for its Amrumbank West wind farm

E.ON today started construction of its operations and maintenance building on the North Sea island of Helgoland. E.ON will use Helgoland as an offshore operations base for its Amrumbank West offshore wind farm. The 1,800 square metre building will provide space for offices, changing rooms and storage. Up to 50 staff working in shifts will support the operation of the Amrumbank West wind farm by boat and helicopter. The inauguration of the building is scheduled for August 2014.

The building is part of an extensive conversion of the island's southern harbour. To enable use of Helgoland as a service port, new service and storage buildings as well as outdoor storage areas and jetties will be built. In the harbour area itself there will be new piers and breakwater structures.

Dominik Schwegmann, the Amrumbank West wind farm project manager, said: "Helgoland is very conveniently located and therefore an ideal maintenance base for our offshore wind farm – that way we don't have to have a hotel ship or a manned offshore platform next to the wind turbines. We are planning to be on Helgoland for the long term. The lease for the land has an initial term of 28 years. We are pleased that the island will benefit so much from this infrastructure upgrade."

E.ON has had a strong bond with Helgoland for some time. Three years ago, E.ON Hanse, the regional utility, installed a 50 kilometre 30 kilovolt subsea cable to the island. Thanks to E.ON's involvement, Germany's energy transformation is now becoming a huge opportunity for Helgoland. Maintenance sites must be as close as possible to the wind farms they serve. No other location is as ideal as this island.
+ + +
The Amrumbank West offshore wind farm is located around 35 kilometres north of the island of Helgoland. It will consist of 80 Siemens wind turbines with a rated output of 3.6 megawatt each, generating a total of 288 megawatt. The wind farm can supply up to 300,000 households with clean energy and save over 740,000 tonnes of CO2 annually. Construction is now underway with completion and commissioning scheduled for spring 2015. The project is worth some € 1 billion.


Source: E.ON Climate & Renewables
www.eon.com
August 19, 2013
See also: E.ON is the Third Largest Offshore Wind Player in the World
Oil & Gas Journal:
Worldwide more than 100,000
paid subscriptions
Learn more
.
Invitation from the
Oil & Gas Journal
and Offshore Magazine: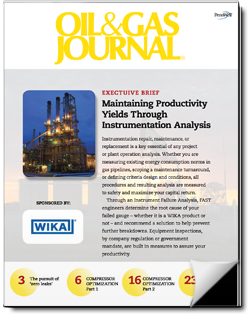 This 'Executive Brief'
could be yours

Click here ... and see what we have designed, produced, published and promoted for WIKA and FMC Technologies ... and what we would like to do for you.
.PennWell Petroleum Group:
OGJ - Oil & Gas Journal
OGJ_eNewsletter
Offshore Magazine
Offshore eNewsletter
Oil & Gas Financial Journal
Oil, Gas & Petrochem
OGJ Russia
OGJ LatinoAmericana
PennEnergy
PennEnergy-eNewsletter
+ + +
For more information, media kits or sample copies please contact
wilhelms@pennwell.com
www.sicking.de