Shell lets subsea contract for Stones field development

Royal Dutch Shell PLC has let a subsea equipment contract to FMC Technologies Inc. in a move to continue development of Stones oil and gas field in the Gulf of Mexico.
Discovered in 2005, Stones is an ultradeepwater project in the gulf's Walker Ridge area about 200 miles southwest of New Orleans in 9,600 ft of water. The project encompasses eight US federal Outer Continental Shelf lease blocks in the gulf's Lower Tertiary trend. Shell established first production in the trend area from its Perdido development.
The scope of the contract with FMC includes supply of eight subsea trees, a subsea manifold, topside and subsea controls, and associated equipment.

Earlier this month, Shell announced a final investment decision in the Stones project, which is expected to host "the deepest production facility in the world," according to the company.

The FID set in motion the construction and fabrication of a floating production, storage, and offloading vessel as well as subsea infrastructure. An FPSO design was selected "to safely develop and produce this ultradeepwater discovery, while addressing the relative lack of infrastructure, seabed complexity, and unique reservoir properties," Shell said.
Development of Stones will start with two subsea production wells tied back to the FPSO vessel, followed later by six additional production wells, Shell said.

This first phase of development is expected to have annual peak production of 50,000 boe/d from more than 250 million boe of recoverable resources. Stones field is estimated to contain more than 2 billion boe in place.

Shell holds 100% interest and will operate the Stones development.

Source Shell
Published in Oil & Gas Journal
May 23, 2013

Oil & Gas Journal:
Worldwide more than 100,000
paid subscriptions
Learn more
.
Invitation from the
Oil & Gas Journal
and Offshore Magazine: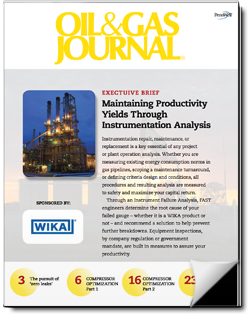 This 'Executive Brief'
could be yours

Click here ... and see what we have designed, produced and promoted for WIKA and FMC Technologies ... and what we would like to do for you.
.PennWell Petroleum Group:
OGJ - Oil & Gas Journal
OGJ_eNewsletter
Offshore Magazine
Offshore eNewsletter
Oil & Gas Financial Journal
Oil, Gas & Petrochem
OGJ Russia
OGJ LatinoAmericana
PennEnergy
PennEnergy-eNewsletter
+ + +
For more information, media kits or sample copies please contact
wilhelms@pennwell.com
www.sicking.de