RWE Dea: Clipper South documentary awarded a Gold Remi

At the 2013 WorldFest International Film Festival held in Houston, Texas, RWE Dea picked up a Gold Remi Award in the Energy Issues category for its film "Fast Track to the Future".

The film documents the development of the Clipper South gas discovery on the UK Continental Shelf from field development plan to first gas in August 2012. "Clipper South is one of our current growth projects in the UK and I am delighted that our success in bringing it on stream is also reflected in winning this award", says Rene Pawel, Managing Director of RWE Dea UK.

RWE Dea's commitment to the future of the UK Continental Shelf (UKCS) is demonstrated by its investment in both the Clipper South and Breagh field developments. RWE Dea is operator of both fields. The Clipper South gas is located in a tight Permian age Rotliegend reservoir which contains approximately 13.4 billion normal cubic metres of gas in place. The development of Clipper South was accomplished in just under a year and a half after securing Government sanction. All wells will be ready for production by end of September 2013. First gas from the Breagh field is expected in early August 2013.

The Clipper South film was produced by Myriad Global Media. The list of previous winners of the WorldFest International Film Festival , now in its 46th year, includes film greats such as Steven Spielberg, George Lucas and Ang Lee.
Source: Carolin Flemming, Frank Meyer
RWE Dea
June 5, 2013


> More about Clipper South

RWE Dea AG, headquartered in Hamburg, is an international company operating in the field of exploration and production of natural gas and crude oil. The company deploys state-of-the-art drilling and production technologies and puts its many years' experience acquired to good use in its activities. RWE Dea has set new standards in the fields of safety and environmental protection.

RWE Dea has stakes in production facilities and concessions in Algeria, Egypt, Denmark, Germany, the UK and Norway, and holds exploration licenses in Ireland, Libya, Mauritania, Poland, Trinidad & Tobago as well as in Turkmenistan. Moreover, in Germany RWE Dea operates large subterranean storage facilities for natural gas. RWE Dea is part of the RWE Group, one of Europe's largest energy utilities.
Oil & Gas Journal:
Worldwide more than 100,000
paid subscriptions
Learn more
.
Invitation from the
Oil & Gas Journal
and Offshore Magazine: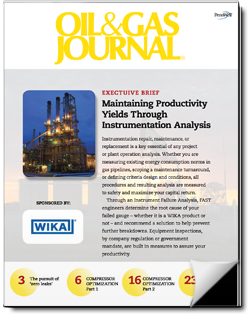 This 'Executive Brief'
could be yours

Click here ... and see what we have designed, produced, published and promoted for WIKA and FMC Technologies ... and what we would like to do for you.
.PennWell Petroleum Group:
OGJ - Oil & Gas Journal
OGJ_eNewsletter
Offshore Magazine
Offshore eNewsletter
Oil & Gas Financial Journal
Oil, Gas & Petrochem
OGJ Russia
OGJ LatinoAmericana
PennEnergy
PennEnergy-eNewsletter
+ + +
For more information, media kits or sample copies please contact
wilhelms@pennwell.com
www.sicking.de