PRÜFTECHNIK: Alignment now with a perfect PC solution
State-of-the-art data management for shaft and geometrical alignment

ALIGNMENT CENTER 2.2, the all-in-one PC solution from PRÜFTECHNIK Alignment Systems, takes care of all the data management needs for the shaft and geometrical alignment of machines and plants. From the set-up of measurement data, through results analysis, to the generation of professional reports – the software manages data through the entire alignment process.

With the new optional professional features, ALIGNMENT CENTER 2.2 offers enhanced application capabilities for shaft alignment and geometrical measurements, such as bores, flatness and straightness.

The analysis of alignment results in conjunction with vibration data is yet another outstanding new feature. Machine vibrations can now be displayed before, during and after the alignment process and reports can be generated accordingly.

Version 2.2 includes an enhanced graphical user interface for fast and simple generation of professional colour measurement reports. Measurement data can be stored including all the important additional information required for the alignment job in a structured way.

What's more, with release 2.2, users can always enjoy the most powerful capabilities of the alignment software though the new online-update center for the software and all firmware from PRÜFTECHNIK Alignment Systems.
+ + +
The PRÜFTECHNIK group, with subsidiaries and partners in more than 70 countries worldwide, is continuing to set new standards with innovative technical developments in the sectors of laser and vibration measurement technology to maximize and optimize machine and plant availability.

Source: Anne-France Carter, PRÜFTECHNIK AG
www.pruftechnik.com
Sept. 05, 2013

.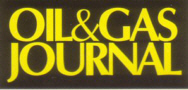 Worldwide more than 100,000
paid subscriptions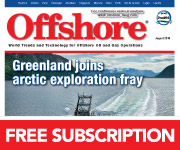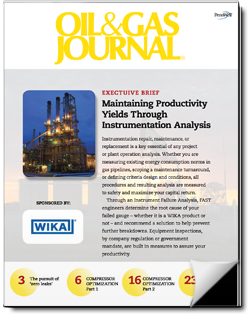 Technical Briefs
from the editors of
Oil & Gas Journal
and Offshore Magazine:

Click here ... and see what we have designed, produced, published and promoted for WIKA and FMC Technologies ... and what we would like to do for you.
.PennWell Petroleum Group:
OGJ - Oil & Gas Journal
OGJ_eNewsletter
Offshore Magazine
Offshore eNewsletter
Oil & Gas Financial Journal
Oil, Gas & Petrochem
OGJ Russia
OGJ LatinoAmericana
PennEnergy
PennEnergy-eNewsletter
+ + +
For more information, media kits or sample copies please contact
wilhelms@pennwell.com
www.sicking.de