SHAFTALIGN now also wireless
The new product version provides greater user convenience

PRÜFTECHNIK Alignment Systems presents its new product portfolio under the motto "The winning team". Highlights include the release of the wireless version of the SHAFTALIGN system, the first wireless system within its segment on the market.

The optional Bluetooth-based module makes every measurement and alignment task with SHAFTALIGN more convenient than ever. Cable tangles that can possibly interfere with the rotation of the shaft are over. This saves time and boosts efficiency, without compromising on any of the usual precision and data reliability of the PRÜFTECHNIK products.

From the start, SHAFTALIGN has had the knack of user-friendly features. In the standard version, the Auto Flow function guides the user step-by-step through measurement and alignment. The Active Clock measurement mode ensures that the angular position of the sensor is automatically taken into account during shaft positioning. The measurement can be started in any position and direction and requires only a 70­o rotation.
+ + +

About PRÜFTECHNIK: The PRÜFTECHNIK group, with subsidiaries and partners in more than 70 countries worldwide, is continuing to set new standards with path-breaking technical developments in the sectors of laser and vibration measurement technology to maximize and optimize machine and plant availability.


Source: Anne-France Carter, PRÜFTECHNIK AG, www.pruftechnik.com
Oil & Gas Journal:
Worldwide more than 100,000
paid subscriptions
Learn more
.
Invitation from the
Oil & Gas Journal
and Offshore Magazine: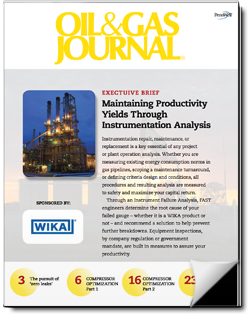 This 'Executive Brief'
could be yours

Click here ... and see what we have designed, produced, published and promoted for WIKA and FMC Technologies ... and what we would like to do for you.
.PennWell Petroleum Group:
OGJ - Oil & Gas Journal
OGJ_eNewsletter
Offshore Magazine
Offshore eNewsletter
Oil & Gas Financial Journal
Oil, Gas & Petrochem
OGJ Russia
OGJ LatinoAmericana
PennEnergy
PennEnergy-eNewsletter
+ + +
For more information, media kits or sample copies please contact
wilhelms@pennwell.com
www.sicking.de