Press release:

DESERTEC Foundation is leaving the
industrial consortium Dii

Heidelberg, 1st July 2013. Today, the DESERTEC Foundation announced the termination of its membership with Dii GmbH. This action has been agreed upon by all members of the Supervisory Board and the Board of Directors at an extraordinary board meeting which took place on 27th June 2013.

In 2009, Dii GmbH had been founded as a cooperation between many renowned firms and DESERTEC Foundation to create appropriate conditions for the realisation of DESERTEC in Europe, North Africa and the Middle East.

The non-governmental Foundation, which is the main idea- and name-giver for the DESERTEC concept, is taking this step as a result of many irresolvable disputes between the two entities in the area of future strategies, obligations and their communication and last but not least the managerial style of Dii's top management. DESERTEC Foundation also wants to avoid being dragged into the maelstrom of negative publicity about the management crisis and disorientation of the industrial consortium. The dispute at the management level has already led to resentment among the partners of the DESERTEC Foundation and it negatively affects our reputation and trust. This is what the DESERTEC Foundation intends to avoid.

DESERTEC Foundation explicitly emphasises its understanding for the challenges the industrial consortium has to face. "It was always clear to us that our idea of producing electricity from the deserts on this earth was never an easy task and will always face extreme challenges. The employees of Dii have contributed enormously to the global transition towards renewable energy. However, after many months filled with a lot of discussions we had to conclude that the DESERTEC Foundation needs to preserve its independence. This is why Dii and DESERTEC Foundation will go separate ways which does not exclude future cooperation," said Thiemo Gropp, Director of the DESERTEC Foundation.

DESERTEC Foundation is the sole owner of the brand name "DESERTEC" and therefore the guardian of the concept. The Foundation is a non-profit organisation and its main objective is to globally spread and implement the DESERTEC concept and its vision to produce renewable electricity from desert regions while taking socioeconomic aspects into consideration. DESERTEC is a major component of the global transition towards renewable energy.
+ + +

DESERTEC Foundation

The DESERTEC Foundation is a civil society initiative to shape a sustainable future. Until today it has built up a large community of supporters and a network of partners, which is active around the globe. It grew out of a network of scientists, politicians and economists, who developed the DESERTEC Concept, a comprehensive solution to combat global warming, to ensure reliable energy supply, and to support regional development. Core of the concept is the idea of a renewable energy grid, integrating all forms of renewable energies, located and used where they are at their most abundant. Arid regions and desert regions hold enormous potentials, which are mostly untapped but perfectly complement the energy mix by permanent available renewable base load energy. The aim of the Foundation is to advance the fast implementation of the DESERTEC Concept especially by providing information, enabling knowledge transfer and scientific cooperation. Furthermore, it accompanies sustainable projects that are exemplary piloting. It has developed first criteria to evaluate such projects.The DESERTEC Foundation is a non-profit foundation based in Berlin. Active worldwide, it supports with its work the development of concentrating solar thermal power plants above all with the aim of quickly developing large renewable energy capacity to meet growing world energy demand and thereby giving people around the world access to a modern and CO2-free energy supply.

Press Contact:
Dr. Thiemo Gropp
0049 (0) 6221-6548-501
press(at)desertec.org

More information: www.desertec.org
Website: www.DESERTEC.org
Oil & Gas Journal:
Worldwide more than 100,000
paid subscriptions
Learn more
.
Invitation from the
Oil & Gas Journal
and Offshore Magazine: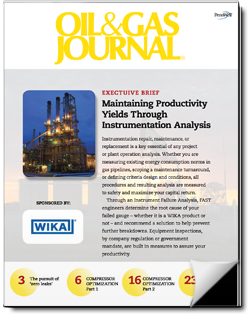 This 'Executive Brief'
could be yours

Click here ... and see what we have designed, produced, published and promoted for WIKA and FMC Technologies ... and what we would like to do for you.
.PennWell Petroleum Group:
OGJ - Oil & Gas Journal
OGJ_eNewsletter
Offshore Magazine
Offshore eNewsletter
Oil & Gas Financial Journal
Oil, Gas & Petrochem
OGJ Russia
OGJ LatinoAmericana
PennEnergy
PennEnergy-eNewsletter
+ + +
For more information, media kits or sample copies please contact
wilhelms@pennwell.com
www.sicking.de