Alstom's tidal turbine reaches 1 MW in offshore conditions

Alstom's full-scale tidal device in Orkney, Scotland, has reached the full nominal power of 1 MW after a series of gradual increases in power. (Alstom Tidal turbine at EMEC center, off Orkney islands Scotland ©Alstom)

From its immersion in January 2013, at the European Marine Energy Centre (EMEC) in Orkney, Scotland, Alstom's full-scale tidal device has reached the full nominal power of 1 MW after a series of gradual increases in power. The turbine connected to the grid has now generated over 10 MWh of electricity, in actual operating conditions. Both are major milestones in the development of the tidal stream energy.

The tidal turbine has been tested in different operational conditions through the ReDAPT 1 testing program. It has shown a reliability and performance in line with its design models. The next step of the testing program will be to demonstrate the full range of autonomous running capabilities of the turbine (its ability to efficiently operate independently), continue with the planned maintenance and gather evidence for certification. The endurance and reliability will also be tested into 2014. Tests in pilot farms will follow prior to the start of full commercial production.

"We are enthusiastic following the initial tests of our tidal stream turbine which successfully demonstrated the advantages of Alstom tidal turbine technology, in the challenging environment of the Fall of Warness in Orkney", stated Alstom Ocean business Vice-President Rob Stevenson.

Alstom's tidal turbine has a 22 metres long nacelle and weighs 150 tonnes. Its rotor has three pitchable blades and a diameter of 18 meters. The tidal turbine is capable of floating. Buoyancy enables the turbine nacelle to be easily towed to and from the point of operation and attached to its pre-installed foundation. Avoiding the need for specialist vessels and divers, this particular technical feature minimises installation and maintenance costs and reduces the timeframe to install or retrieve the turbine. The unit operates fully submerged with no surface piercing part, in a water depth of about 40 meters. The nacelle can rotate around vertical axis to face the incoming tide at an optimal angle, and thus extract the maximum energy potential.

1 As part of the Energy Technologies Institute (ETI) commissioned and co-funded ReDAPT (Reliable Data Acquisition Platform for Tidal) consortium project.

Source: Alstom
Published August 9, 2013 by PennEnergy















Oil & Gas Journal:
Worldwide more than 100,000
paid subscriptions
Learn more
.
Invitation from the
Oil & Gas Journal
and Offshore Magazine: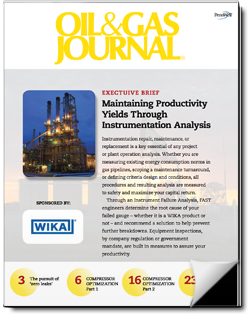 This 'Executive Brief'
could be yours

Click here ... and see what we have designed, produced, published and promoted for WIKA and FMC Technologies ... and what we would like to do for you.
.PennWell Petroleum Group:
OGJ - Oil & Gas Journal
OGJ_eNewsletter
Offshore Magazine
Offshore eNewsletter
Oil & Gas Financial Journal
Oil, Gas & Petrochem
OGJ Russia
OGJ LatinoAmericana
PennEnergy
PennEnergy-eNewsletter
+ + +
For more information, media kits or sample copies please contact
wilhelms@pennwell.com
www.sicking.de