New WIKA website:
More info with fewer clicks
Fresh design, efficient navigation and additional functionality:
On WIKA's new website visitors can now get even more with fewer clicks.


The website is much tidier, visually clearer and with a wider range of services to offer. Customers can, for example, find the instrument they are looking for via a new product selector or directly via mega menus. Cross references will let them know about accessories, related products or applicable trade articles and WIKA blogs. By using a search form on the same level, the appropriate sales contacts, in the field or in the office, will be identified.

Furthermore, the newly designed Internet presence offers an expanded FAQ section and a detailed career area with an international appointments section. The website is linked with social media, including the WIKA channel on YouTube. On top of this, it is optimised for search engines and tablet PCs.

Source: Monika Adrian, André Habel Nunes
WIKA Alexander Wiegand SE & Co. KG
http://www.wika.com
June 2013
---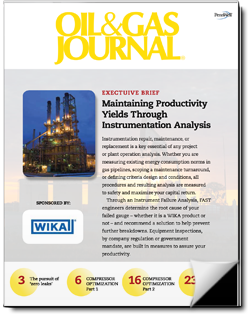 See also
'OIL & GAS JOURNAL Executive Brief';
37 pages, sponsored by WIKA,
designed, produced, published and promoted by OIL & GAS JOURNAL
Oil & Gas Journal:
Worldwide more than 100,000
paid subscriptions
Learn more
.
Invitation from the
Oil & Gas Journal
and Offshore Magazine: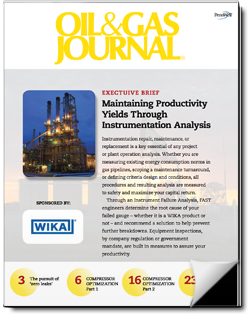 This 'Executive Brief'
could be yours

Click here ... and see what we have designed, produced, published and promoted for WIKA and FMC Technologies ... and what we would like to do for you.
.PennWell Petroleum Group:
OGJ - Oil & Gas Journal
OGJ_eNewsletter
Offshore Magazine
Offshore eNewsletter
Oil & Gas Financial Journal
Oil, Gas & Petrochem
OGJ Russia
OGJ LatinoAmericana
PennEnergy
PennEnergy-eNewsletter
+ + +
For more information, media kits or sample copies please contact
wilhelms@pennwell.com
www.sicking.de