OMV sells part of Nabucco West shares to GDF SUEZ

OMV welcomes GDF SUEZ as new partner for Nabucco West
Broad pan-European backing for the pipeline project
Six reliable partners for Europe's gas future

OMV, the integrated, international oil and gas company sold approximately nine per cent of the NABUCCO Gas Pipeline International GmbH to GDF SUEZ, one of the biggest players in the French energy sector. This transaction comes shortly after OMV has taken over the stake from the former shareholder RWE. Closing of the transaction is subject to certain conditions and expected to occur in H2 2013.

Gerhard Roiss, OMV Chief Executive Officer: "Having GDF SUEZ as new partner for Nabucco West is another milestone for the project. It proves that we are on the right way to provide Europe with more gas and to secure new sources of gas for the future." The step of the new partner from France is also a clear sign of the broad pan-European backing for Nabucco West. Following closing, the company is owned by six reliable partners: BEH (Bulgaria), BOTAS (Turkey), FGSZ (Hungary), GDF SUEZ (France), OMV (Austria) and Transgaz (Romania).

The deal with GDF SUEZ is another important step forward. " This year we have already seen considerable progress for Nabucco West", adds OMV CEO Gerhard Roiss. "With this strengthened pan-European partnership we are looking forward to the upcoming decision of the Shah Deniz II consortium concerning their preferred delivery route to Europe."

The companies have agreed not to disclose the purchase price or other conditions of the deal.

Source: Johannes Vetter, Robert Lechner, OMV Group - www.omv.com
May 28, 2013

+ + +

OMV Aktiengesellschaft: With Group sales of EUR 42.65 bn and a workforce of around 29,000 employees in 2012, OMV Aktiengesellschaft is Austria's largest listed industrial company. In Exploration and Production, OMV is active in two core countries Romania and Austria and holds a balanced international portfolio. OMV had proven oil and gas reserves of approximately 1.12 bn boe as of year-end 2012 and a production of around 303,000 boe/d in 2012. In Gas and Power, OMV sold approximately 437 TWh of gas in 2012. In Austria, OMV operates a 2,000 km long gas pipeline network with a marketed capacity of around 103 bcm in 2012. With a trading volume of around 528 TWh, OMV's gas trading platform, the Central European Gas Hub, is amongst the most important hubs in Continental Europe. In Refining and Marketing, OMV has an annual refining capacity of 22 mn t and as of the end of 2012 approximately 4,400 filling stations in 13 countries including Turkey. OMV further strengthened its position through the ownership of a 97% stake in Petrol Ofisi, Turkey's leading company in the retail and commercial business.
Oil & Gas Journal:
Worldwide more than 100,000
paid subscriptions
Learn more
.
Invitation from the
Oil & Gas Journal
and Offshore Magazine: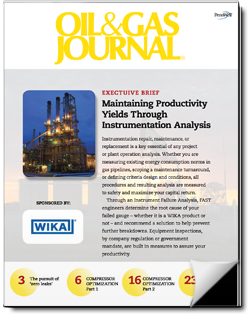 This 'Executive Brief'
could be yours

Click here ... and see what we have designed, produced, published and promoted for WIKA and FMC Technologies ... and what we would like to do for you.
.PennWell Petroleum Group:
OGJ - Oil & Gas Journal
OGJ_eNewsletter
Offshore Magazine
Offshore eNewsletter
Oil & Gas Financial Journal
Oil, Gas & Petrochem
OGJ Russia
OGJ LatinoAmericana
PennEnergy
PennEnergy-eNewsletter
+ + +
For more information, media kits or sample copies please contact
wilhelms@pennwell.com
www.sicking.de