The new JDN Film:
Around the world in 8 minutes

A mine in China. A gas field in Siberia. A dockyard building drilling rigs in Norway. A steelworks in Duisburg. A rental company in Chicago. An oil pumping station in Texas. All the above locations feature in the new JDN company film "Engineered For Extremes" because our hoists and crane systems are used there, under the harshest conditions for both man and machine!

Customers from all around the world contribute brief comments. "You can't beat JDN", says one of them. And at the company museum on the production site in Witten on the Ruhr, Managing Director Wilfried Neuhaus-Galladé explains why that's the case: "It's simply because we make everything a little bit better than it really needs to be." He represents the seventh generation of the family business that dates back to 1745. In the film, he embodies the qualities that are typical of all JDN employees: responsibility, quality made in Germany and enthusiasm for the future.
Watch the film: jdngroup.com/en/film
The "book" of the Film
We have expanded our product portfolio considerably in recent years. In addition to compressed air, we now use hydraulic power as a second drive medium for our hoists and crane systems in order to also provide solutions for further extreme operating environments. We have also significantly extended our plant construction business. We are designing and producing complex crane systems as complete solutions for more and more customers. And for over a year now, we have been communicating our brand new performance promise: engineered for extremes.
This is not just the title of our new film, it is also the title of the new printed portrait of J.D. Neuhaus that has just been published. Find out some interesting facts from our
company's almost 270-year history, about the harshest working conditions in the world and about our particular understanding of what quality and customer orientation means.
Download the brochure (book) here
http://www.jdngroup.com/en/service/download-center/brochures.html
Order your personal copy here
manfred.mueller@jdn.de
Source: Dipl.-Ing. Manfred Müller
JDN J.D.Neuhaus - www.jdngroup.com
15.07.2013
Oil & Gas Journal:
Worldwide more than 100,000
paid subscriptions
Learn more
.
Invitation from the
Oil & Gas Journal
and Offshore Magazine: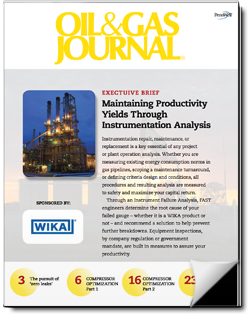 This 'Executive Brief'
could be yours

Click here ... and see what we have designed, produced, published and promoted for WIKA and FMC Technologies ... and what we would like to do for you.
.PennWell Petroleum Group:
OGJ - Oil & Gas Journal
OGJ_eNewsletter
Offshore Magazine
Offshore eNewsletter
Oil & Gas Financial Journal
Oil, Gas & Petrochem
OGJ Russia
OGJ LatinoAmericana
PennEnergy
PennEnergy-eNewsletter
+ + +
For more information, media kits or sample copies please contact
wilhelms@pennwell.com
www.sicking.de