Intertek Spain chosen for gas oil stability testing
by the Institute for Reference Materials and Measurements
of the European Commission.

Intertek, the leading quality solutions provider to a wide range of industries worldwide, has been selected by the European Commission Institute for Reference Materials and Measurements (IRMM) to support gas oil stability testing.
The IRMM has selected Intertek's BTC laboratory in Spain to conduct determinations of cloud-point (CP) analysis and cold filter plugging point (CFPP) testing under repeatable conditions for a set of diesel fuel samples. The tests will determine the stability of reference material ERM-395k, and shall be performed in accordance with the methods provided by the European Commission. The Intertek BTC laboratory, located in the Port of Bilbao, specializes the testing and analysis of petroleum, fuels, and other hydrocarbons.
"Intertek is honoured to have been chosen by the IRMM to perform this fuel testing. Measuring the characteristics of test reference materials is extremely important for ensuring meaningful repeatability for any testing laboratory using the materials", said Ángel Garrido, Intertek BTC Laboratory Manager.
The Institute for Reference Materials and Measurements (IRMM) is one of the seven institutes of the Joint Research Centre (JRC), a Directorate-General of the European Commission.
The IRMM supports industrial competitiveness, quality of life, safety and security in the EU by developing advanced measurement standards and providing state-of-the-art scientific advice concerning measurements and standards for EU policies. The IRMM's main objective is to build confidence in the comparability of measurements by the production and dissemination of internationally accepted quality assurance tools, including validated methods, reference materials, reference measurements, inter-laboratory comparisons and training.
Source: Intertek - www.intertek.com
Published by PennEnergy
August 14, 2013
Oil & Gas Journal:
Worldwide more than 100,000
paid subscriptions
Learn more
.
Invitation from the
Oil & Gas Journal
and Offshore Magazine: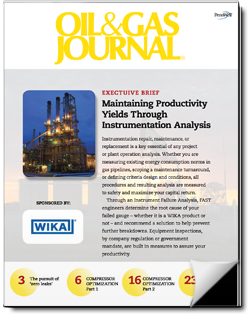 This 'Executive Brief'
could be yours

Click here ... and see what we have designed, produced, published and promoted for WIKA and FMC Technologies ... and what we would like to do for you.
.PennWell Petroleum Group:
OGJ - Oil & Gas Journal
OGJ_eNewsletter
Offshore Magazine
Offshore eNewsletter
Oil & Gas Financial Journal
Oil, Gas & Petrochem
OGJ Russia
OGJ LatinoAmericana
PennEnergy
PennEnergy-eNewsletter
+ + +
For more information, media kits or sample copies please contact
wilhelms@pennwell.com
www.sicking.de