New Infield Forecast:
Deep & Ultra-deepwater Market Report to 2017

Infield System's ninth edition of the widely acclaimed Global Perspectives Deep and Ultra-deepwater Market Report To 2017 provides detailed and comprehensive analysis into what has become the leading offshore growth market today. The forecast provides in-depth analysis on both global and regional capital expenditure on developments at water depths of 500 metres and greater across the key market sectors of: platforms, subsea, pipelines and control lines. Indeed, all seven regions examined within the report are expected to undergo deepwater capital expenditure growth over the forthcoming five year period to 2017.

As demand for energy continues to increase, the search for vital energy resources is expanding further offshore into harsher and deeper waters. Whilst deepwater reserve additions are expected to remain a marginal proportion of overall global production; rising from a 7% cumulative share of global reserves in 2012 to an expected 10% share by 2017, in Capex terms, the deepwater market, which requires considerably higher capital expenditure than its shallow water counterparts, is expected to rise from a 38% share in 2012 to a 53% share of global offshore Capex by the year 2017. This growth, whilst centring upon the 'Deepwater Triangle' of Brazil, West Africa and the North American Gulf of Mexico, is also expected to be supported by less traditional areas of deepwater development, including offshore South East Asia, Australasia and Europe; whilst this latest market update to 2017 also sees substantial growth in deepwater development offshore Middle East and Caspian.

Development offshore Brazil is expected to lead the global deepwater market going forwards to 2017; with expenditure expected to centre around the Lula and Franco developments. However, with Brazil's economy growing at an unprecedented pace, the following period is also expected to be pivotal in the development of Brazil's offshore reserves and a testing time for its NOC Petrobras.

Within the North American region, the Gulf of Mexico deepwater market is expected to continue to gain in strength post-Macondo, with activities expected to be led by IOC Shell, holding a 24% market share of capital expenditure on deepwater developments; with the ultra-deepwater Stones and Appomattox projects expected to be central to this investment.

Offshore Africa, Angolan developments are expected to be at the forefront of deepwater investment, with the country forecast to hold a 52% share of the regional Capex spend. Here, key prospects anticipated to command significant expenditure include: the Kaombo I and II fields, Lucapa and BP's PAJ. However, whilst West Africa is expected to remain the primary driving force of deepwater development within the region going forwards, towards the end of the period, deepwater activity offshore East Africa is expected to increase, with development of the Prosperidade complex offshore Mozambique expected to draw particular industry attention and substantial expenditure.

Offshore Asia key fields anticipated to enter production during the forecast include: Liwan offshore China; Shell's Gumusut-Kakap development offshore Malaysia; and the Gendalo-Gehem project, developed by Chevron offshore Indonesia and expected to enter production in 2016. Over the following five year period Infield Systems also expects a growing diversity in deepwater production within the region, with new areas of development including: Brunei, Myanmar and Sri Lanka emerging towards the end of the current forecast period.

European deepwater demand is expected to increase substantially, with the giant Aasta Hansteen expected to be the third most capital intensive deepwater field development globally over the timeframe. In operator terms, Statoil is expected to form the largest market share going forwards, with other key players expected to include: Chevron; directing significant spend towards the Rosebank development, and Gazprom, leading the South Stream project, also expected to invest heavily within the European deepwater market going forwards to 2017.

Prospects offshore North Western Australia have attracted considerable attention over recent years, with capital expenditure commencing on the Chevron and ExxonMobil operated Greater Gorgon area during 2011. Going forwards, the deepwater market offshore North Western Australia is expected to increase its global market share from 1% to 3%, with ExxonMobil expected to lead development spend as a result of significant expenditure on the Jansz field and the long-awaited Scarborough development.

Offshore Middle East, whilst remaining the smallest market for deepwater development spend, Infield Systems expects Independent operator Noble Energy to drive investment, with the giant gas developments offshore Israel expected to demand the largest proportion of the region's deepwater spend over the period. Within the Caspian area, BP is also expected to continue the development of Shah Deniz offshore Azerbaijan.

Report Contents
Download Brochure & List of Contents
Executive Summary provides an overview of the global and regional trends presented throughout the report, with a summary of global capital expenditure by region and market segment.
Global Market Overview provides an overview of: current economic conditions in both developed and emerging markets, oil price trends and field sanction points, offshore production and reserves, as well as key industry trends, including the impact of unconventionals and the growth of LNG on the global market
Global Deepwater Business Overview presents the major development projects and regional focus of the top six operators: Petrobras, Shell, Total, BP, Chevron and ExxonMobil over the next five years, as well as their longer term exploration and business strategies. Key contractors within the subsea tree market over the forecast period are also presented. Within this section, a breakdown is provided, region by region, of forecast capital expenditure on: subsea, platforms, pipelines and control lines. In addition, a regional breakdown of platform installations, number of subsea wells, and installation of pipelines and control lines by length (km) is also presented.
Regional Analysis and Forecast contains a detailed analysis and forecast for the seven regions: Africa, Asia, Australasia, Europe, Latin America, Middle East and Caspian, and North America. This section provides an overview of the key trends and prevailing geopolitical conditions affecting regional oil and gas markets, in addition to the key operators present, and the future prospects for each region. Within this section, data is provided on capital expenditure by country, as well as the specific market segments of platforms, subsea infrastructure, pipelines and control lines over the ten year period of analysis (2008-2017).

The report contains data developed by Infield Systems' market modelling process, OFFPEX, which is based on a unique "bottom up approach" to forecasting. OFFPEX's component by component and project by project forecasting process is robust and has a proven track record.
Deep and Ultra-deepwater is one of the core publications within the Global Perspectives series, and offers an in-depth analysis of the key market segments, countries and operators within this key offshore growth market. With the prospects for the deepwater market increasing, this report also highlights new areas of exploration as well as how advances in technology will enable operators to realise the potential of developments previously considered to be marginal.
The report provides an independent and comprehensive analysis of the drivers and challenges which are impacting development strategies, exploration activity and project timelines. This is supported by the inclusion of a detailed analysis of operator capital expenditure within the deepwater market over the 2008-2017 timeframe.

Source: Quentin Whitfield - Director - Infield Systems Limited
http://www.infield.com // quentin.whitfield@infield.com


July 10, 2013
Oil & Gas Journal:
Worldwide more than 100,000
paid subscriptions
Learn more
.
Invitation from the
Oil & Gas Journal
and Offshore Magazine: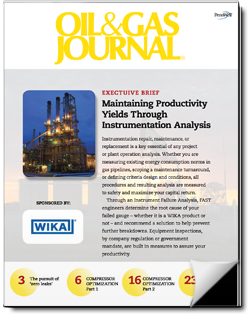 This 'Executive Brief'
could be yours

Click here ... and see what we have designed, produced, published and promoted for WIKA and FMC Technologies ... and what we would like to do for you.
.PennWell Petroleum Group:
OGJ - Oil & Gas Journal
OGJ_eNewsletter
Offshore Magazine
Offshore eNewsletter
Oil & Gas Financial Journal
Oil, Gas & Petrochem
OGJ Russia
OGJ LatinoAmericana
PennEnergy
PennEnergy-eNewsletter
+ + +
For more information, media kits or sample copies please contact
wilhelms@pennwell.com
www.sicking.de