Follow the development of a future North Sea oil and gas field
During 2014-2015, DONG Energy and its licence partner Bayerngas will be
establishing the Hejre field in the North Sea


The field entails the largest individual investment in the Danish sector of the North Sea in recent years and significantly boost Denmark's status as self-sufficient in oil and gas. As of today, you can follow the development of the North Sea field on its own website and subscribe to news on the most significant activities and incidents of the development project.

The Hejre field which is located approximately 290 kilometres north-west of Esbjerg requires construction of a new combined Production, Drilling and Living Quarters platform with production from five new wells. The field will be hooked up with existing infrastructure in the North Sea via new oil and gas pipelines transporting the production from the area.
At the same time, the crude oil terminal in Fredericia is extended so that it will be able to
handle the crude oil from the Hejre field.

It is expected that the field will start producing at the end of 2015, but already now, the project is well under way in the preparations for installation and commissioning.

You can read about the following in the first issue of the newsletter:

- The first steel for the platform has been cut
- The jacket is being constructed
- The first production technicians have been hired
- The first turf has been cut for the extension of the crude oil terminal in Fredericia
- Seabed surveys performed in the area near the Hejre field.

The newsletter is available here
More news on offshore oil & developments can be found here
and in the Offshore Magazine

Source: DONG Energy
Published August 16, 2013 by PennEnergy
Oil & Gas Journal:
Worldwide more than 100,000
paid subscriptions
Learn more
.
Invitation from the
Oil & Gas Journal
and Offshore Magazine: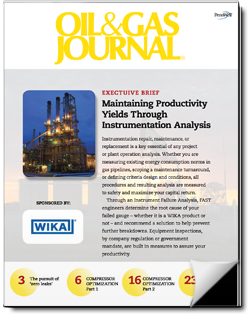 This 'Executive Brief'
could be yours

Click here ... and see what we have designed, produced, published and promoted for WIKA and FMC Technologies ... and what we would like to do for you.
.PennWell Petroleum Group:
OGJ - Oil & Gas Journal
OGJ_eNewsletter
Offshore Magazine
Offshore eNewsletter
Oil & Gas Financial Journal
Oil, Gas & Petrochem
OGJ Russia
OGJ LatinoAmericana
PennEnergy
PennEnergy-eNewsletter
+ + +
For more information, media kits or sample copies please contact
wilhelms@pennwell.com
www.sicking.de