Oil & gas exploration cooperation agreement for Halliburton and Gazprom

Halliburton has entered into an agreement of cooperation with Gazprom Neft for the introduction of new technologies to improve operational efficiency in Gazprom Neft fields.
"The strategic objective of Gazprom Neft is to increase hydrocarbon production to 100 million tons of oil equivalent by 2020. According to our estimation, more than half of all our oil will be produced using innovative technologies. Enhancement of mature field development efficiency and implementation of new major projects involve technological challenges. In order to solve these problems, we are actively cooperating with Russian and foreign service companies choosing the most suitable modern technologies for our oilfields" said Gazprom Neft first deputy general director Vadim Yakovlev.
Representatives of the two companies will collaborate on technological solutions for hard-to-recover reserves, unconventional resources, deepwater and other projects. Gazprom Neft specialists will provide Halliburton with updated data on implementation of specific projects and Halliburton experts will offer technological solutions.
"Halliburton invests significant funds and resources into research and development of new technologies for the exploration and production of hydrocarbons," said Konstantin Schilin, general director of Halliburton's Russia operations. "This innovation allows us to continuously perfect our capabilities and offer efficient solutions to lower cost per BOE for our customers."

Source: Halliburton
Published August 13, 2013 by PennEnergy


















Oil & Gas Journal:
Worldwide more than 100,000
paid subscriptions
Learn more
.
Invitation from the
Oil & Gas Journal
and Offshore Magazine: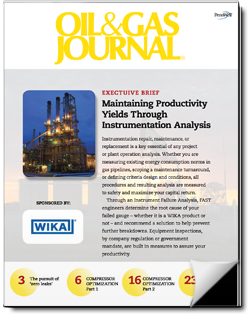 This 'Executive Brief'
could be yours

Click here ... and see what we have designed, produced, published and promoted for WIKA and FMC Technologies ... and what we would like to do for you.
.PennWell Petroleum Group:
OGJ - Oil & Gas Journal
OGJ_eNewsletter
Offshore Magazine
Offshore eNewsletter
Oil & Gas Financial Journal
Oil, Gas & Petrochem
OGJ Russia
OGJ LatinoAmericana
PennEnergy
PennEnergy-eNewsletter
+ + +
For more information, media kits or sample copies please contact
wilhelms@pennwell.com
www.sicking.de