GE to Expand oil and gas facility in Hungary


GE (NYSE: GE) today announced the expansion of its existing oil and gas facility in Fót, Hungary. It will host the state-of-the-art manufacturing base of central unit control panels (UCP) for gas and steam turbine power plants. Bringing UCP production to Hungary is the latest in a long line of GE investments to align its production to new customer needs and to extend its technology capability locally and globally.

The GE Oil & Gas manufacturing plant will be expanded with a new 6,000-square-meter manufacturing hall, along with an office building. The company will supply the new products and solutions worldwide from its Fót facility.

The investment is a significant step towards increasing competitiveness while increasing the number of jobs and is further proof of GE's commitment to the country. The expanded facility, leveraging local expertise at the current plant in Fót, will increase control panel production capacity and operational efficiency. It also will drive top-line growth by expanding the range of applications and engineering capability for custom design. The increased capacity adds approximately 114 new jobs, including 40 engineering positions.

GE is the largest U.S. investor in Hungary with 12,500 employees. The company has 12 manufacturing plants, three technology centers and three regional headquarters in the country.

"Over the past two decades, Hungary has been a key manufacturing location for GE. We consider Hungary to be a globally competitive epicenter not only for innovation but for skilled labor as well. The highly talented and motivated Hungarian workforce with their professional training and expertise is a significant advantage. We are pleased to expand our presence in Hungary," said Dave Cox, global supply chain leader, GE Oil & Gas.

Currently GE Oil & Gas designs and manufactures intelligent systems and equipment in its Fót plant, employing more than 140 people.
+ + +
GE in Hungary: Since late 1989, GE has been one of the most significant multinationals operating in Hungary. Today all five GE core businesses are active here. Currently GE is the largest U.S. investor and employer (12,500) and one of the biggest exporters of Hungary, while as a customer has a key supplier base of 2,000+.

As a supplier, GE's 21st century energy, transportation, healthcare, water and security solutions can help Hungary to develop and increase its competitiveness. The key to success so far is GE's culture of partnership with associates, local communities, the business and scientific community and the government.
Source: GE / Oil & Gas Journal / PennEnergy
July 31, 2013
Oil & Gas Journal:
Worldwide more than 100,000
paid subscriptions
Learn more
.
Invitation from the
Oil & Gas Journal
and Offshore Magazine: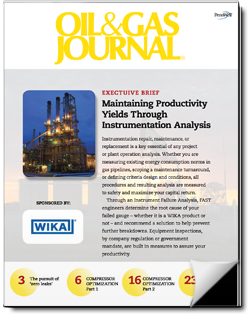 This 'Executive Brief'
could be yours

Click here ... and see what we have designed, produced, published and promoted for WIKA and FMC Technologies ... and what we would like to do for you.
.PennWell Petroleum Group:
OGJ - Oil & Gas Journal
OGJ_eNewsletter
Offshore Magazine
Offshore eNewsletter
Oil & Gas Financial Journal
Oil, Gas & Petrochem
OGJ Russia
OGJ LatinoAmericana
PennEnergy
PennEnergy-eNewsletter
+ + +
For more information, media kits or sample copies please contact
wilhelms@pennwell.com
www.sicking.de