E.ON E&P has made a significant gas discovery in the UK North Sea

E.ON Exploration & Production's (E&P) Tolmount gas discovery in the UK North Sea could contain significantly higher volumes than originally estimated, making it one of the largest discoveries made in this part of the North Sea for several years. The recently completed appraisal well reached its targets within time and budget on 6th July. A 855 m side-track was completed on 30th July. "This successful discovery in UK is an important step for our growing upstream business. Tolmount will significantly contribute to the implementation of our business strategy," said Jørgen Kildahl, member of the E.ON Board of Management.

The Tolmount gas accumulation is situated near existing gas infrastructure in the UK North Sea. E.ON E&P already has a strong presence in this area and operates the Johnston and Babbage gas fields. "The well results will now be incorporated into development studies, with the aim of an optimised development in a short timeframe. Tolmount could be one of the largest discoveries made in the Southern North Sea in the last decade," said Frank Sivertsen, CEO of E.ON E&P.

The Tolmount discovery is located 50 km off the UK coast, to the northeast of Dimlington, East Riding of Yorkshire, in block 42/28d in the UK Southern North Sea. E.ON E&P (operator) holds 50 percent of 42/28d and Dana Petroleum (E&P) Limited holds 50 percent. "We would like to thank our partner Dana Petroleum for its support and teamwork in reaching this significant milestone. The Tolmount success shows there is still potential for significant volumes of hydrocarbons to be found in the UK North Sea," said Haakon Haaland, Executive Vice President Business Development & Exploration of E.ON E&P.
+ + +
E.ON Exploration & Production is an expanding global business unit of the E.ON Group, with operations in the UK, Norway, Russia and Algeria. E.ON E&P is one of the fastest growing companies in the North Sea. In the UK 27th Licensing Round, E.ON E&P was one of the most successful bidders for offshore exploration acreage. Today, E.ON E&P holds equity interests in around 50 licences in the UK and Norway and operates one third of these. E.ON E&P active in the Central North Sea, West of Shetlands, Southern Gas Basin, Norwegian North Sea, Mid Norwegian Sea and Barents Sea.

Source: E.ON E&P - Exploration & Production
Posted August 16, 2013
Oil & Gas Journal:
Worldwide more than 100,000
paid subscriptions
Learn more
.
Invitation from the
Oil & Gas Journal
and Offshore Magazine: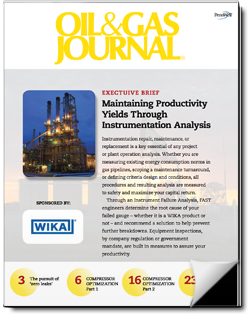 This 'Executive Brief'
could be yours

Click here ... and see what we have designed, produced, published and promoted for WIKA and FMC Technologies ... and what we would like to do for you.
.PennWell Petroleum Group:
OGJ - Oil & Gas Journal
OGJ_eNewsletter
Offshore Magazine
Offshore eNewsletter
Oil & Gas Financial Journal
Oil, Gas & Petrochem
OGJ Russia
OGJ LatinoAmericana
PennEnergy
PennEnergy-eNewsletter
+ + +
For more information, media kits or sample copies please contact
wilhelms@pennwell.com
www.sicking.de