E.ON, DONG and Masdar inaugurate the world's largest offshore wind farm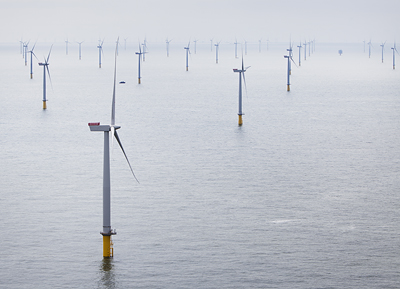 Today the world's largest offshore wind farm, London Array, was officially inaugurated off the British coast. London Array is a joint project of E.ON, the Danish energy company Dong and Masdar, the infrastructure fund of the Kingdom of Abu Dhabi. Present were Prime Minister David Cameron, Johannes Teyssen, (E.ON), Brent Cheshire, (Dong Energy), Sultan Ahmed Al Jaber (Masdar) and Peter Löscher (Siemens). London Array is located 20km off the Kent coast in south-east England. The wind farm has been operational since April, and at a capacity of 630MW will produce enough clean energy every year to meet the demand of about half a million UK homes.
Offshore construction began in March 2011 with the first foundations and the two offshore transformer stations. Since then 175 Siemens wind turbines have been erected and over 200km of cabling has been laid at a water depth of 25m. Each wind turbine reaches a height of 147m above sea level, which is roughly the height of Cologne Cathedral. And each of the two offshore transformer stations, which bundle the electricity generated by the wind farm and feed it to the power grid on the mainland, weighs 1,250t.
When the construction work was in full swing, over 60 vessels and more than 1,000 people were at the site at the same time. This called for huge logistical input and coordination. The largest vessels included the MPI Discovery and its sister ship, the MPI Adventure. Both are among the world's most modern ships used for installing foundations and wind turbines out in the open sea. On average, the specialists aboard the MPI Discovery needed one to two days to fully erect a wind turbine out at sea; if the weather was fine, this only took twelve hours. Under a six-year contract E.ON is also using the MPI Discovery to build the next offshore wind farms: Kårehamn (Sweden), Humber Gateway (UK) and Amrumbank-West in Germany's North Sea.
Source: E.ON - July 4, 2013
+ + +
Additional Information from Siemens:
World's largest offshore wind farm with 175 Siemens wind turbines inaugurated

Siemens delivered wind turbines, grid connection
and provides service under a long-term agreement
London Array offshore wind power plant
provides enough clean electricity to power 500,000 British households


Today marks the inauguration of the world's largest offshore wind power plant, London Array. Siemens supplied the 175 wind turbines and the grid connection for London Array. Together with Dong Energy, Siemens will also be responsible for the service of the wind turbines through a long-term agreement. The wind power plant owned, developed and built by a consortium consisting of Dong Energy, E.ON and Masdar has a total capacity of 630 megawatts (MW) and will generate enough power to supply 500,000 British households with clean electricity. London Array will reduce annual CO2 emissions by approximately 900,000 tons, which equals the emissions of 300,000 passenger cars.

"London Array is the world's largest offshore wind power plant and marks a milestone in the development of offshore wind power. This project underscores the leading position of Siemens in this attractive growth market", said Peter Löscher, President and CEO of Siemens AG on the occasion of the opening ceremony in Margate, Great Britain.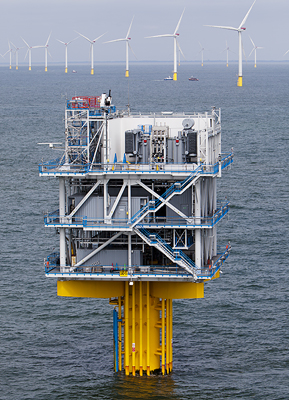 The London Array offshore wind farm is located in the Thames estuary, approximately 20 kilometers off the Kent and Essex coast. Siemens supplied and installed the 175 wind turbines, each with a rotor diameter of 120 meters and a rating of 3.6 MW. In addition, the company supplied the grid connection with one onshore and two offshore substations in the North Sea. The electricity generated by the wind turbines is bundled at sea and transported via high-voltage submarine cables to the coast. (See photo)
The wind farm will be operated and maintained from a purpose-built base at Ramsgate Port.

"Projects of this magnitude contribute to further industrialization of complex production and logistics processes for offshore wind power plants," said Peter Löscher. During the execution of the London Array project, Siemens was able to further standardize offshore installation processes covering manufacturing, transport and logistics as well as installation of wind turbines offshore.

Offshore wind power is already playing an important role in the energy systems of Northern Europe. Its largest offshore markets, Great Britain and Germany, have ambitious development plans. Both countries are planning rapid and broad expansion of offshore energy generation. In Germany, a successful energy transition to meet future needs is only possible with the further increase of offshore wind power. The German government plans to have 10 gigawatts (GW) of offshore capacity installed by 2020. Great Britain is targeting up to 18 GW of wind energy by 2020, enough to meet nearly one-fifth of Britain's electricity demand.

Siemens is at the front of the market for offshore wind power plants, grid connections and offshore wind service. The company has already installed more than 1,100 wind turbines at sea with a total capacity of 3.4 GW, over two thirds of which are located in Great Britain. In total, it has 4.6 GW of offshore capacity in its order books. Including London Array, Siemens has also implemented five grid connections in Great Britain.

For additional information and pictures please visit:
The world's largest offshore wind farm is online

www.siemens.com
July 4, 2013

Oil & Gas Journal:
Worldwide more than 100,000
paid subscriptions
Learn more
.
Invitation from the
Oil & Gas Journal
and Offshore Magazine: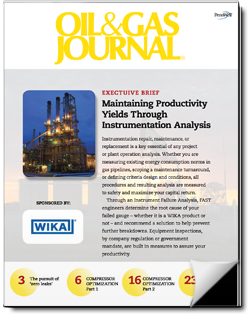 This 'Executive Brief'
could be yours

Click here ... and see what we have designed, produced, published and promoted for WIKA and FMC Technologies ... and what we would like to do for you.
.PennWell Petroleum Group:
OGJ - Oil & Gas Journal
OGJ_eNewsletter
Offshore Magazine
Offshore eNewsletter
Oil & Gas Financial Journal
Oil, Gas & Petrochem
OGJ Russia
OGJ LatinoAmericana
PennEnergy
PennEnergy-eNewsletter
+ + +
For more information, media kits or sample copies please contact
wilhelms@pennwell.com
www.sicking.de