Douglas-Westwood:
Subsea Vessel Market Poised For Increase in Demand


The subsea vessel operations market is poised to see an increase in demand in the near term with day rates for some vessels set to increase. Between 2013 and 2017, Douglas-Westwood (DW) forecast $106 billion (bn) of expenditure on subsea vessel operations – an increase of 54% over the preceding five-year period. Global demand is expected to increase 23% compared to the previous five years. The rate of increase in expenditure is expected to be higher than the growth in vessel days, due to the move towards higher specification vessels to cater for deeper and more complicated field development programmes.

Whilst IRM-related days will continue to account for the majority of the market, field development related activity will see an even faster growth rate at a CAGR of 10.7%. This rapid pace will be primarily driven by increased development of deepwater reserves, with Brazilian and African field development work to account for about half of projected global demand.

These are findings detailed in DW's new World Subsea Vessel Operations Market Forecast 2013-2017 which analyses the main factors driving demand for ROVSV, DSV, Flexlay, LWIV and Pipelay Vessels.

Report author, Calvin Ling, commented, "As operators look to increase the efficiency and profitability of their subsea developments, new technologies and processes are shaping the subsea vessel industry. Most notably the increased requirement for high voltage cables to power remote production platforms and complex subsea processing equipment will place a strong onus on flex-lay capable vessels and widen the role of electrical engineering firms in subsea field developments."

Thom Payne, DW Manger in Singapore, concludes, "Subsea development will continue to account for an increasing share of global offshore activity. With the move to deeper waters, the requirement for vessels for a longer duration on site and with higher specifications are increasing, giving rise to higher expenditure prospects. Opportunity will also arise from the major pre-salt developments offshore Brazil and potentially West Africa, the prospects in the eastern Mediterranean and eventually the ultimate subsea challenge – the Arctic."
+ + +
World Subsea Vessel Operations Market Forecast 2013-2017: analyses the main factors driving demand for ROVSV, DSV, Flexlay, LWIV and Pipelay Vessels. Geared to senior executives' needs, the report assumes no previous knowledge of the subject area. The report provides the reader with a comprehensive understanding of the key trends involved in shaping the requirement for subsea vessels:
http://www.douglas-westwood.com/shop/shop-infopage.php?longref=1188
Established in 1990, Douglas-Westwood is a leading provider of market research and consulting services within the engineering, equipment manufacturing and field services sectors of the energy industry worldwide. It has completed nearly 1,000 projects for clients in over 70 different countries, researching over 200 niche energy-business segments. It is an independent organisation with research supported by proprietary data, insight and knowledge. Its international reach is backed up by with one of the largest sector-focused teams in offices in the Americas, Europe and Asia. For more information see: www.douglas-westwood.com


Source: Douglas-Westwood,
Michael Robertson
Sales & Marketing Coordinator

2013, August 22
Oil & Gas Journal:
Worldwide more than 100,000
paid subscriptions
Learn more
.
Invitation from the
Oil & Gas Journal
and Offshore Magazine: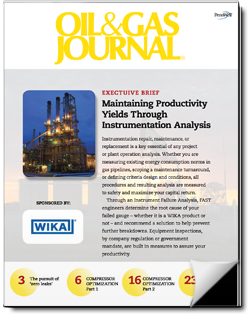 This 'Executive Brief'
could be yours

Click here ... and see what we have designed, produced, published and promoted for WIKA and FMC Technologies ... and what we would like to do for you.
.PennWell Petroleum Group:
OGJ - Oil & Gas Journal
OGJ_eNewsletter
Offshore Magazine
Offshore eNewsletter
Oil & Gas Financial Journal
Oil, Gas & Petrochem
OGJ Russia
OGJ LatinoAmericana
PennEnergy
PennEnergy-eNewsletter
+ + +
For more information, media kits or sample copies please contact
wilhelms@pennwell.com
www.sicking.de