Offshore oil drilling vessel Blue Guardian heads to North Sea
By PennEnergy Editorial Staff


Ship builder Ulstein delivered the platform supply vessel Blue Guardian to the North Sea June 28, where it is contracted for offshore oil drilling work. According to the World Maritime News, the Blue Guardian is the fifth of six platform supply vessels of the PX121 design from Ulstein.

The platform is contracted by Det Norske Oljeselskap ASA and Repsol Exploration to support the Maersk Giant rig on the Norwegian continental shelf. It will begin work in mid-July.

"It will be exciting to see the new ship at work," said chief engineer Jens-Kristian Rusten. "We expect her to be at least as good as Blue Fighter, which we are very satisfied with. That vessel is a marvelous ship, with good seakeeping qualities, high comfort and good facilities."

The Blue Guardian's is more than 273 feet long and has a maximum speed of 16 knots. The ship can hold 4,200 tonnes, and in addition to carrying oil, water and drilling fluids the ship can also transport flammable liquids. There are accomodations for 23 people onboard, World Maritime News reported.

Source: Offshore Magazine and PennEnergy
June 28, 2013
Oil & Gas Journal:
Worldwide more than 100,000
paid subscriptions
Learn more
.
Invitation from the
Oil & Gas Journal
and Offshore Magazine: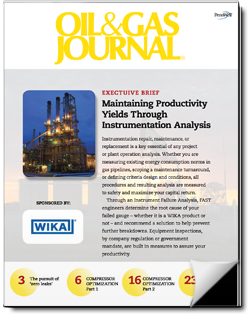 This 'Executive Brief'
could be yours

Click here ... and see what we have designed, produced, published and promoted for WIKA and FMC Technologies ... and what we would like to do for you.
.PennWell Petroleum Group:
OGJ - Oil & Gas Journal
OGJ_eNewsletter
Offshore Magazine
Offshore eNewsletter
Oil & Gas Financial Journal
Oil, Gas & Petrochem
OGJ Russia
OGJ LatinoAmericana
PennEnergy
PennEnergy-eNewsletter
+ + +
For more information, media kits or sample copies please contact
wilhelms@pennwell.com
www.sicking.de