Bayer to use CO2 commercially as a new raw material
Greenhouse gas for production of high-quality plastics
Process offers ecological and economic advantages
Successful two-year test phase
Foam made with recycled CO2.

Following a successful test phase, Bayer is aiming to commercialize the use of the greenhouse gas carbon dioxide as a new raw material for plastics. The company has started the planning process for the construction of a production facility at its site in Dormagen, Germany, where CO2 will be used to produce a precursor for high-quality foam. The objective is to initially make larger quantities of this precursor available to selected processors from 2015.

The use of carbon dioxide benefits the environment. CO2 replaces a portion of the fossil raw materials, such as petroleum, that would otherwise be used exclusively. At the same time, Bayer expects the new process to provide economic advantages over the conventional production method.

Waste gas turning into profitable raw material

"CO2 is taking on a new light: The waste gas is turning into a useful and profitable raw material. That makes us one of the first companies worldwide to take an entirely different approach to the production of high-quality foams," says Patrick Thomas, CEO of Bayer MaterialScience.

The materials manufacturer collaborated with partners from industry and academia to develop the process, which has been tested intensively over the last two years. As part of the publicly funded research project "Dream Production", a pilot plant at Bayer's main site in Leverkusen produced smaller quantities of the precursor polyol, in which the CO2 is chemically bound.

The substance is used for the production of polyurethane foam. This high-quality material can be found in many everyday items, including upholstered furniture, automotive parts, refrigeration equipment and insulation material for buildings. In internal tests, the new foams show at least the same high quality as conventional material based entirely on fossil fuels.

Mattresses made with CO2

"After successfully completing the test phase, we are now launching Stage 2 with the target of commercialization," says Thomas. The first use of the new CO2-based flexible foam will be for the production of mattresses.

The planned production facility in Dormagen will have a capacity of several thousand metric tons. "This will not be enough to accommodate the market demand, of course. It is Bayer's patent-registered technology and we have not yet decided to be the exclusive producer of this innovative polyol. Licensing might also be a possibility," adds Thomas.

Find more information at www.materialscience.bayer.com.
Source: Michael Schlösser
2013, July 25
Oil & Gas Journal:
Worldwide more than 100,000
paid subscriptions
Learn more
.
Invitation from the
Oil & Gas Journal
and Offshore Magazine: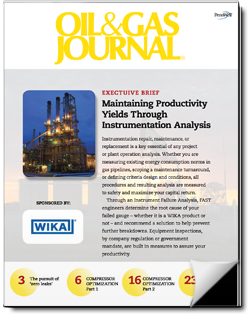 This 'Executive Brief'
could be yours

Click here ... and see what we have designed, produced, published and promoted for WIKA and FMC Technologies ... and what we would like to do for you.
.PennWell Petroleum Group:
OGJ - Oil & Gas Journal
OGJ_eNewsletter
Offshore Magazine
Offshore eNewsletter
Oil & Gas Financial Journal
Oil, Gas & Petrochem
OGJ Russia
OGJ LatinoAmericana
PennEnergy
PennEnergy-eNewsletter
+ + +
For more information, media kits or sample copies please contact
wilhelms@pennwell.com
www.sicking.de