TAP Awards Contract to Salzgitter Mannesmann International
for Onshore Line Pipe and Bends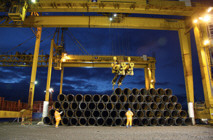 Oct 29, 2015 + + + Trans Adriatic Pipeline AG (TAP) awarded a contract to Salzgitter Mannesmann International GMBH for 270 km of the onshore 48-in. OD line pipe, as well as the bends TAP requires for both onshore (48-in.) and offshore (36-in.) use. Salzgitter will provide 48-in. line pipes and bends for TAPís onshore sections in Albania, Greece, and Italy, and 36-in. bends for the offshore section across the Adriatic, a total of roughly 170,000 tonnes of line pipe.
TAP said the award would allow it to begin construction in Greece, Albania, and Italy next year as planned. Awards for the offshore 36-in. OD line pipe and the remainder of the 48-in. onshore pipe will be announced separately.
This year TAP has awarded contracts for construction and rehabilitation of access roads and bridges in Albania (April), large-diameter ball valves and actuators (July), turbo compressors (September), and fittings, isolating joints, and scraper traps (October).
TAP will transport natural gas from Shah Deniz II field in Azerbaijan to Europe. The 878-km pipeline will connect with the Trans Anatolian Pipeline (TANAP) at the Turkish-Greek border at Kipoi, cross Greece, Albania, and the Adriatic Sea, and come onshore in southern Italy.
The pipelineís routing will allow gas delivery to southeastern European countries including Bulgaria, Albania, Bosnia and Herzegovina, Montenegro, and Croatia. Its landfall in Italy provides opportunities for further transport to markets such as Germany, France, the UK, Switzerland, and Austria.
TAP targets first gas sales to Georgia and Turkey in late 2018, with first deliveries to Europe will following in early 2020.
Pipeline shareholders are BP 20%, State Oil Co. of Azerbaijan Republic 20%, Statoil ASA 20%, Fluxys 19%, Enagas SA 16%, and Axpo Holding AG 5%.
For further information on TAPís procurement process and the contracts that it plans to award, please go to: www.tap-ag.com/project-opportunities/for-companies

More about Salzgitter Mannesmann Line Pipe: www.smlp.eu
Source: TAP AG
Article by Oil & Gas Journal staff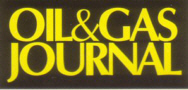 Worldwide more than
100,000 paid subscriptions
Since May 2015
Oil, Gas & Petrochem (OG&PE) is published as part of the
OIL & GAS JOURNAL to serve a consolidated monthly audience of 135,000 oil/gas professionals worldwide
» read more


Worldwide more than 48,000 subscriptions -
100% one-year direct request qualification


'What's New' in Upstream, Midstream and Downstream Products & Services. Circulation 37,000

PennWell
Petroleum Group:
Oil & Gas Journal
Oil & Gas Journal Russia
OGJ_eNewsletter
OGJ-Website-Statistics
Oil, Gas & Petrochem Equipment
Offshore Magazine
Offshore Russia
Offshore eNewsletter
Offshore Website Statistics

Oil & Gas Financial Journal

+ + +
For more information, media kits or sample copies please contact
Andreas Sicking
+49 (0)2903-338570
wilhelms@pennwell.com www.sicking.de