Published in EPT by Wilhelm Sicking, April 06, 2016
OMV: Barents Sea well proves viability
of shallow horizontal development drilling

April 06, 2016 + + + A well test via the Wisting Central II horizontal appraisal well in the Barents Sea has recorded a flow rate of more than 5,000 boe/d and has therefore proved the viability of shallow horizontal drilling needed to develop Wisting field, OMV AS reported.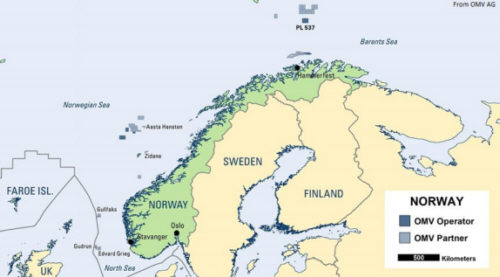 The objectives of the well, drilled in Wisting field about 310 km north of Hammerfest, were to confirm the potential of the discovery by proving the presence of hydrocarbons in the undrilled Wisting Central South and Central West segments, and to prove the technical concept of long-reach horizontal wells in a shallow reservoir about 250 m below seabed.
OMV expects the well results to provide an increase of in-place volumes in the Central South and Central West segments, and further reduce the overall uncertainty of contingent resources in PL537. Wisting area potential has been reconfirmed at 200-500 million boe.

The Wisting Central II well is the first horizontal appraisal well in the Barents Sea and sets a drilling record as the shallowest horizontal offshore well drilled from a floating drilling facility, the firm says. Wisting lies in 402 m of water.
The well started vertically and was successfully steered into a horizontal orientation within a 250-m depth interval. The total well length is 2,354 m and the horizontal section measures 1,402 m. Advanced data collection and geo-steering was conducted through the entire horizontal phase.

The well was spudded on Jan. 15 by the Transocean Spitsbergen semisubmersible drilling rig. The well test was finalized end of March and the well will now be permanently plugged.
Wisting field contains the northernmost oil discovery in Norway (OGJ Online, Sept. 6, 2013). Wisting Central II is the fifth well in PL537 (OGJ Online, Oct. 29, 2013), awarded in the 20th licensing round in 2009.
OMV (Norge) AS is operator of PL537 with 25% interest. Joint venture partners are Petoro AS 20%, Idemitsu Kosan Co. Ltd. 20%, Tullow Oil PLC 20%, and Statoil ASA 15%.
Source: OMV / Oil & Gas Journal Staff
www.omv.com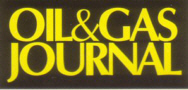 Worldwide more than 100,000 paid subscriptions
Since May 2015
Oil, Gas & Petrochem (OG&PE) is published as part of the
OIL & GAS JOURNAL to serve a consolidated monthly audience of 135,000 oil/gas professionals worldwide
» read more


Worldwide more than 48,000 subscriptions -
100% one-year direct request qualification


'What's New' in Upstream, Midstream and Downstream Products & Services. Circulation 37,000

PennWell
Petroleum Group:
Oil & Gas Journal
Oil & Gas Journal Russia
OGJ_eNewsletter
OGJ-Website-Statistics
Oil, Gas & Petrochem Equipment
Offshore Magazine
Offshore Russia
Offshore eNewsletter
Offshore Website Statistics

Oil & Gas Financial Journal

+ + +
For more information, media kits or sample copies please contact
Andreas Sicking
+49 (0)2903-338570
wilhelms@pennwell.com www.sicking.de