A good reason for celebration
None of the four founders of the company would have ever dreamed that they would be celebrating shared success with a hundred employees twenty years after they made their way to a solicitor in April 1990 to enter

FLEXIM - Flexible Industriemesstechnik GmbH

into the commercial registry.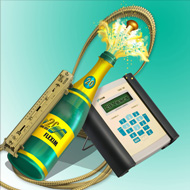 Twenty years ago, non-invasive flow measurement using clamp-on ultrasonic transducers on the outside of the pipeline was a very uncommon technique which only a select few insiders knew about. The four founders of the company, graduates of Rostock University and Berlin's Humboldt University, were part of this group.

Today, FLEXIM is the leading provider of clamp-on ultrasonic flowmeters. Non-invasive measurement technology has long since established itself as a standard method due to its impressive advantages. The area of application is no longer limited to just liquid aggregate states. At FLEXIM, we are particularly proud of the pioneering work carried out during the transfer of ultrasonic technology to non-invasive flow measurement of gases. FLEXIM is also the only manufacturer to have carried out non-invasive ultrasonic flow measurement at high temperatures up to 400 °C / 750 °F.

Permanently forward-looking

In 1990, in an oven-heated ground floor apartment in Berlin's Friedrichshain district, the four founders of FLEXIM worked meticulously on developing an ultrasonic flowmeter which they called FLUXUS®. Their business idea proved to be more than viable and their product proved to be ground-breaking. Today, FLUXUS® flowmeters are used worldwide to measure practically everything that flows. FLUXUS® is just as reliable when measuring on the smallest pipelines, e.g. in the paint-spray lines of the automotive industry, as when measuring on the huge pipes of hydroelectric power stations. Building engineers of East Coast Ivy League universities trust in FLUXUS® for energetic optimisation of their heating and air-conditioning systems just as much as their counterparts in Manhattan's skyscrapers, where FLUXUS® is also readily used to measure energy flows non-invasively.

For many years, FLEXIM has stood for more than just flow measurement. Clamp-on ultrasonic technology is also suitable for process analysis purposes, such as non-invasive concentration measurement. FLEXIM has also developed a unique optical instrument with the PIOX R® process refractometer which has proven successful worldwide in industrial applications.

Like its products FLUXUS® and PIOX®, FLEXIM also has a strong global presence with its own branches in the USA, China, Singapore, France, the Netherlands and Austria as well as a dense network of sales partners.

Jens Hilpert, Managing Director of FLEXIM GmbH, identifies two main reasons for the continued positive development of the company: the usefulness and reliability of the products and the character and sure-handedness of the people behind them. "We only develop and manufacture things which are useful for the general public", states Hilpert. "That includes process measurement devices which are good and robust at the present time. We are good to our customers and colleagues. Mutual trust, fairness, integrity as well as clear and open communication are the basis of our success."
For more information please click here
Posted May 25, 2010


+ + Media Links + +



For more information, media details or sample copies please contact
wilhelms@pennwell.com